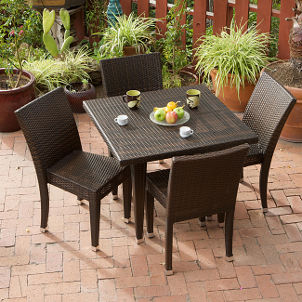 Keep your deck or patio looking fresh each year by caring for your patio set. Whether you need to protect your iron patio set from rust or waterproof a teak patio set so it doesn't warp in the rain or snow, these tips will help you keep your patio furniture looking like new.
Caring for Your Patio Set:

Waterproof wood furniture each year. Before you set any wooden patio furniture sets in your backyard, you'll want to apply a waterproof sealant to protect the wood from rain and snow. If you own a teak patio set or a similar hardwood set made of mahogany or oak, you won't have to worry as much about waterproofing; hardwood is naturally weather-resistant. You may want to apply wood oil to these pieces to keep them from drying out, however.

Add wax to wrought-iron furniture. While an iron patio set is among the most durable because of its heavy metal construction, it can also be prone to rust if it is not taken care of properly. To protect wrought-iron and other metal patio sets from weather damage, apply a coat of clear automotive wax to the metal. Check them at least once a year for rust and paint damage. If you do find rust, buff it off using sandpaper and use an automotive paint kit close in color to your iron garden patio set. Make sure to coat your furniture with wax after painting it to prevent further damage.

Clean all outdoor furniture thoroughly. Make sure you scrub everything at least twice a year to remove dirt and grime, more often if you use your patio furniture often. You can usually use soapy water to clean most outdoor furnishings, but you'll want to refer to the care instructions to be sure. Heavy-duty plastic and resin furniture can be scrubbed and rinsed easily with a mild dish soap and water, but you may need a soap meant for automotive use to safely clean metal patio sets. Be sure to rinse wood furniture well and dry it thoroughly, so it doesn't warp due to excess water. You'll also want to be careful when cleaning patio tables that you remove all soap from surfaces where guests will be eating. Wipe them with a clean cloth before serving any food.

Buy Patio Furniture
Back to Guides Directory