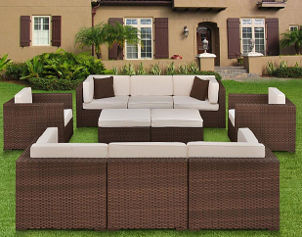 It's easy to entertain in your backyard each summer with stylish wicker patio furniture, and it is also easy to care for this classic material. Whether you need to clean your wicker patio furniture for an upcoming barbecue or want tips on keeping your wicker chairs and tables from wearing out, the following suggestions will help you maintain your favorite pieces for years to come. Read on for tips on caring for wicker furniture.
Wicker Furniture Care:

Dust your wicker furniture regularly. Wicker outdoor furniture is known for its elegant woven appearance; unfortunately, the open-weave pattern in the backs of wicker chairs catches a lot of dirt and dust. Keep your furniture clean by using a feather duster to whisk dirt out of all the crevices. You can also use a vacuum nozzle attachment to gently remove dust bunnies and dirt from your wicker outdoor furniture. To keep your pieces from getting dirty so quickly, buy weatherproof cushions for both the backs and bases of your wicker sofas and chairs. Cushions are also a great way to update antique wicker furniture that has begun to fade.

Clean dirty wicker furniture with an ammonia or detergent solution. Once your wicker patio set has been sitting outside for a while, you'll need to clean it with something stronger than a feather duster. Combine two tablespoons of ammonia or detergent with a gallon of water, dampen a rag in the solution and wipe all the surfaces of your wicker patio set. Rinse it thoroughly. If you need to remove stubborn mud with a garden hose, turn your furniture on its side so the water will quickly flow off. Dry each piece with a towel and move it into a dry place, away from the sun, to dry thoroughly for a few days. Keep an eye on large pieces, including wicker sofas, as the weave can stretch and ruin your furniture.

Keep your wicker furniture away from moisture and humidity. Wicker patio furniture can be destroyed by prolonged exposure to rain and snow, and it does not do well in extremely humid environments. Store your wicker tables and chairs inside or in a covered shed to protect them from damage. You'll want to check both wicker tables and wicker coffee tables for mold and mildew regularly, as these surfaces frequently come in contact with food. If you do find mold or mildew, clean your furniture with a bleach solution, especially wicker coffee tables that sit closer to the ground.

Buy Wicker Patio Furniture
Back to Guides Directory