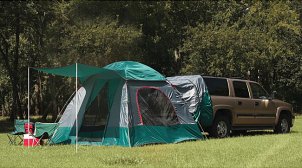 Tent camping is a popular way to escape the city and enjoy the outdoors firsthand. There is something special about having only one protection between you and the elements: your Coleman tent. Here are a few ideas to make sure you and your Coleman tent get off on the right foot on your next camping trip.
Coleman Tent Camping Tips:

Find a campsite. Don't just pitch your camping tents on the first spot you see; make sure the surface is as level as possible to keep you from rolling or sliding around at night. Before setting up your camping tent, look around and note where water is likely to run in the event of a storm. You don't want to pitch your tent in a future puddle. There are also a few places you should avoid. Narrow canyons can experience dangerous flash floods. Pitching your tent in a flat, open field can put you in danger of lightning, so make sure your Coleman tent isn't the tallest thing in your area. Setting up camp next to stagnant water will put you at the mercy of insects. Instead, place your campsite under some shade that will protect both you and your Coleman tents from UV rays. Be sure to clear rocks and branches before pitching your tent.

Pack warm. Even in the summer, it never hurts to bring a waterproof coat, a poncho and some long johns. Rain can quickly cool down a summer day, and it often gets cold at night no matter the season. Since you probably won't spend the entirety of your trip inside your Coleman tent, be prepared to stay warm and dry in any situation.

Hang your food and garbage. Use a storage case or tough plastic bag to hang your food and garbage in a tree. If you can't hang it, place it off the ground in some branches. If animals are in your area, this will prevent them from nosing through your food and garbage and making a mess. Plus, if you are planning to eat your food, you'll want to make sure the locals don't get to it first.

Make a meal plan. Plan out what you'll be eating for every meal of the day. This way you can ensure you bring everything you need for each meal. Print out and store a copy of your daily meal plan inside your Coleman tent so it doesn't get lost or ruined. If you are going to need a fire to cook a meal, make sure your campground allows open fires. Otherwise, plan for meals you can cook on a Coleman stove or grill.

Be considerate. Make sure to clean up your camp when you leave. Don't leave any garbage or wrappers lying around and don't pitch your Coleman tent anywhere that will damage natural vegetation. It will be better for the tent's fabric anyway, and it will help leave the campsite in its natural state. Try your best to leave any campsite better than you found it. Take everything out that you brought in.

Buy Coleman Tents
Back to Guides Directory