Tips on Buying Washers and Dryers
by Chandler Warnick

As anyone who has used a Laundromat for a while can attest, washers and dryers are must-have home appliances. Unfortunately, the fact that they're wonderful to own doesn't make them easy to shop for. As with most large appliances today, washers and dryers come in a range of different models with a variety of different features and extras, and choosing the right washer-dryer combination for your home can be a challenge. However, by doing a little homework on today's washer-dryer combinations and keeping a few shopping tips in mind, you'll be sure to find a washer and a dryer that are right for your budget and your home.
Buying a Washer and Dryer: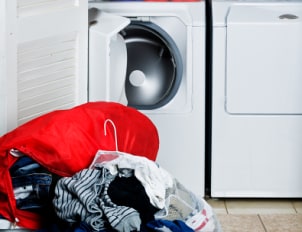 Shop Washers and Dryers ▸
Determine your price range for a washer and dryer.

How much you want to pay for a new washer and dryer set will rule out a lot of different models, so it's wise to decide what your price range is before you begin to shop around. However, you may want to take a brief look at washers and dryers online just to get a ballpark idea of how much they cost.

Decide how you will use your washer and dryer.

Next to your price range, how you intend to use your washer-dryer combination may be the biggest deciding factor in which washer-dryer set you buy. Do you wash huge loads of laundry several times a day? If so, a large-capacity washer -- front loaders have the largest capacities -- with a matching dryer may be the best machine for your home. Also, you may want to consider an energy-efficient washer and dryer if you have lots of laundry, since you may save a lot on electricity and water. On the other hand, if you do laundry for one and you live in a small apartment, a compact washer and dryer or a stacked washer-dryer combination may make more sense.

Compare the upfront savings of a washer and dryer with long-term energy savings.

"Energy efficient" has become a buzzword in the world of large appliances because energy-efficient appliances save money in terms of water and electricity use and are good for the environment, and washers and dryers are no exception. Of course, most Energy Star washers and dryers (washers and dryers certified as using less energy than standard washers and dryers) are significantly more expensive than non-Energy Star rated ones. You may want to do some research on how much money Energy Star washers and dryers will save you in the long run and then decide if the savings will exceed the extra cost.

Factor in the shipping cost of a washer and dryer.

Depending on where you plan to buy your washer and dryer, you can pay a surprisingly large amount for shipping. You can save a lot of money by finding a retailer that offers low shipping rates on large appliances like washers and dryers.

Read customer reviews for washer and dryer sets.

Reading reviews of washers and dryers is a good way to find out information about a prospective purchase that you won't find in the product specifications. Whether or not a washer's control panel is especially user friendly or a dryer's cycle is particularly loud can make a difference in how much you enjoy using your washer and dryer, and washer and dryer user reviews are the best place to find information like that.