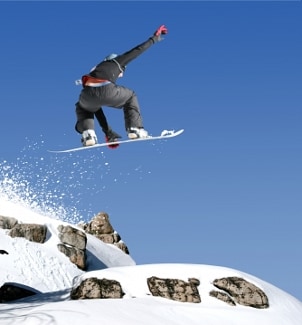 When it comes to buying snowboarding gear, snowboard boots are what to spend your money on to get the best return. The right snowboarding boots not only improve your performance on the slopes, but they will keep your feet feeling good all day long. But there are a few things you should know before you buy your snowboard boots.
Buying Snowboard Boots:

Lacing system: There are three types of lacing systems used in snowboarding boots: traditional tie laces, quick-pull laces and boa lacing systems.

Snowboard Lacing Systems:

Traditional laces: Traditional tie-laces are the most affordable lacing systems for snowboarding boots. They offer the ability to customize the snugness of the boot, and it is possible to fix the laces if one breaks.

Quick-pull laces: Quick-pull laces use a thin cord that runs through the eyelets. Pulling on the cord tightens the boot, and a stopper holds the laces tight. These laces have the advantage of quickly adjusting and holding snuggly throughout the day.

Boa lacing systems: Boa lacing systems use a thin steel wire that is easily tightened and loosened with a ratcheting device. Boa lacing systems are more expensive than other lacing systems, but they provide a vey snug fit that does not loosen throughout a day of riding.

Snowboarding style: Snowboarding boots can be best defined as stiff or flexible. The more flexible the snowboard boots are, generally the more comfortable they will be for a day of riding. However, stiffer boots offer more control at high speeds. Free-ride snowboarders and those who like the steeps typically prefer a stiffer boot, whereas most other riders like a more flexible boot.

Step-in boots: Step-in snowboard boots are designed to be used with step-in bindings, a special type of binding that lets you more easily attach to your snowboard. The disadvantage of step-in systems is that they can result in less control over your snowboard.

Buy Snowboard Boots
Back to Guides Directory