Tips on Buying Runners for Your Hallway
by Amanda Mears
Published April 29, 2010 | Updated April 1, 2015
If there was a study done on the area of your house with the most traffic, your hallways would probably top the list. Luckily, there's a rug sized especially to protect your carpet and wood floors from constant wear. Runner rugs can provide a sound barrier and protect feet from cold floors, but they also make a big style impact in a small space. Before you start shopping for runners, think about what will work best for the space you have in mind and use these tips.
Buying Hallway Runners: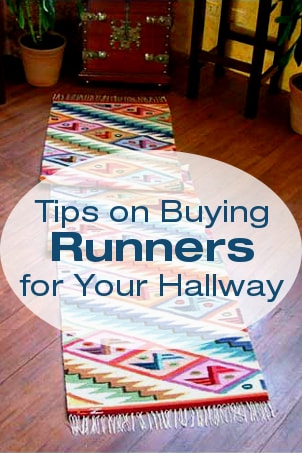 Shop Runner Rugs ▸
Measure before you shop.

Although the shape of runners seems pretty basic, they come in a few different widths and several different lengths to fit almost any hallway. Measure your hallway four inches from the walls to get a rug that fits perfectly. Most runners are about 2-feet wide, and a very small hallway may only need an accent rug. Runner lengths range from 6 feet to more than 15 feet, so you can find one that will suit your long hallways.

Consider function.

Think about the ways your runner can improve on any issues you have with your hallway. You can brighten a dim hallway with a light-colored wool area rug with a pattern or without. If you're worried about your floors looking dirty in a busy entryway, look for rugs with a dark color and a pattern to disguise dirt.

Narrow down a style.

Whether you have an old home that's oozing with charm or a sleek new pad, hallway runners will fit into your existing style and help accentuate features in your home. You can also choose runners based on the flooring they'll sit on. For chic tile or marble floors, try a contemporary runner rug with graphic prints, like zebra or damask. Cozy wood floors were made to be paired with a more traditional runner style, like a floral or braided rug.

Look at materials.

Depending on what your runner is made of, you can use it indoors or outdoors. For indoor runners, try a hand-knotted Persian rug or a wool shag rug. If you plan on using your runner outdoors, look for durable outdoor runners made from synthetic materials that are completely weather resistant. Organic materials, like sea grass or jute, are good indoors and out and are eco-friendly as well.

Don't forget the rug pad.

Runners are going to see a lot of foot traffic, so be sure to use a rug pad to help keep them in place. Rug pads will also add padding for feet and help protect your floors from wear.