Tips on Buying Outdoor Rugs
by Staff Writer

An outdoor rug can keep your porch clean, add color to a dull deck, and unify a patio dining area. But first, you'll need to find the perfect one. These tips will help you find the outdoor rugs that will work best for your home, so you can get outside and enjoy your backyard.
Shopping for Outdoor Rugs: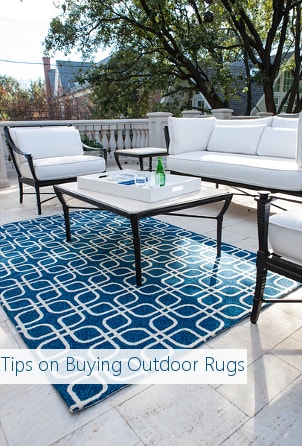 Shop Outdoor Rugs ▸
Decide on the right size.

Before you buy any rugs for your porch or patio, you'll want to measure the areas you want to cover and figure out what shape and size you need. If you want to just cover the front doorstop of your home, a small, outdoor accent rug will work best. For protecting your back patio from scuffs and furniture damage, however, you may want circular or oval outdoor patio rugs that will fit nicely beneath your favorite table and chairs. Make sure that the rugs you choose aren't too big for the area, however, so that your beautiful patio and outdoor furniture still take center stage.

Pick durable materials.

While you have many more options for fibers and materials with indoor area rugs, you'll want to make sure the outdoor area rugs you buy will hold up to the weather. Natural accent rugs made of bamboo or sisal have great texture, but they can mildew and become ruined if exposed frequently to rain or snow. If you live in a harsh climate, you'll want to buy area rugs made of synthetic fibers, such as polypropylene or acrylic, that won't easily be damaged. For more mild climates, however, materials aren't as much of a concern.

Choose patterns that complement your home's design.

If you want to have a unified feeling between your indoor and outdoor spaces, then keep your home's decor in mind before buying any rugs. A traditional home will benefit from outdoor rugs in neutral colors with floral patterns, while a contemporary home will be complemented by rugs in geometric patterns, chevrons, or stripes.

Experiment with color.

If you choose patterns that echo the feeling indoors, then you can buy rugs in more vibrant colors than you may use inside your house. Sunny colors will match the beautiful days, and greens will complement the foliage that's naturally decorating your yard. An orange rug will energize your patio -- perfect if you like to have outdoor parties. Blue will create a calming feeling, so this is a good choice if want a serene outdoor oasis.