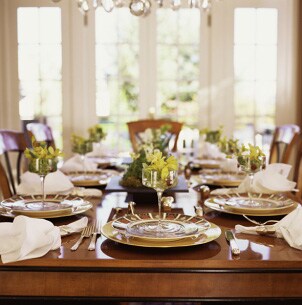 Cloth napkins are essential for nice dinner parties; they are also delightful for everyday use. You can dress up any table with a stylish collection of napkin rings. Napkin rings are an integral part of dining decor, with a wide range of styles available. Choosing napkin rings is a simple process, but these tips can help you choose the best ones for your collection.
Buying Napkin Rings:

Traditional vs. contemporary: The first step to choosing napkin rings is deciding between traditional and contemporary styles. Traditional napkin rings are available in beaded, circular and square designs. Traditional colors include black, white, red, green, blue and yellow. Contemporary napkin rings are available in a wider range of styles and colors. Sleek metal napkin rings with minimalistic style are available in contemporary napkin rings, as are bolder color choices.

Match your napkins: Matching your napkins is one of the easiest ways to choose napkin rings. You can keep an assortment of napkin rings on hand to match each of your different sets of napkins or choose one versatile set of napkin rings, instead.

Materials: Napkin rings can be found in a variety of materials. Enamel and plastic napkin rings are affordable, but metal napkin rings are generally more durable. Stainless steel and sterling silver are the most popular metals used in napkin rings, though gold-plated rings are also available.

Coordinate with tableware: Choose napkin rings by coordinating with your best dinnerware, flatware and stemware. If you have a beloved set of sterling silver flatware, then you need coordinating sterling silver napkin rings. If you treasure your grandmother's crystal stemware, then invest in a set of crystal napkin rings for a fabulously coordinated holiday table.

For children: You can get your children excited about fancy meals when you use the right napkin rings. Napkin rings shaped like animals are especially fun. Teach your children to remove the playful napkin ring and place their cloth napkin in their lap. Novelty napkin rings are great for children's birthday parties and holidays.

Buy Napkin Rings
Back to Guides Directory