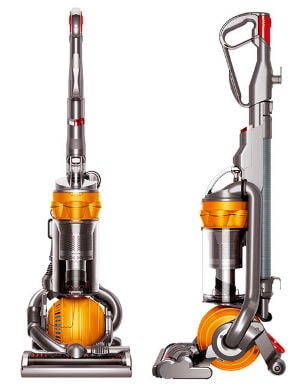 Keep your floors spotless when you buy Dyson vacuums for your home. Since 1993, the Dyson Company has been manufacturing quality cyclonic vacuums and is famous for the Dyson bagless vacuum, which eliminated the need for vacuum bags. Whether you're considering a Dyson canister vacuum, which is compact and stores easily, or a Dyson upright vacuum for deep-cleaning your carpets, the following suggestions will help you find the Dyson floor care products that will work best for your home. Read on for tips on buying Dyson vacuums.
Buying a Dyson Vacuum:

Determine your specific cleaning needs. While you'll definitely want to turn to Dyson for a standard vacuum cleaner that removes dirt and dust from your carpet, why not check out the specialty vacuums available, too? Buy Dyson vacuums that include motorized brushbars for cleaning all types of floors, including hardwood flooring and tile, and look for models that include a variety of attachments, including soft dusting brushes, a car-cleaning kit and an extended brush for cleaning ceiling fans. You can also buy a Dyson upright vacuum with a mini turbine and powerful suction designed for cleaning pet hair and dirt from your floors. Don't forget to check out the style of the vacuum, too; the best Dyson vacuum will be easy to maneuver around your home and will clean even hard-to-reach spaces.

Consider the storage space you have. If you don't have a lot of room to store a large vacuum, consider buying a Dyson handheld vacuum, which can reach into small spaces in your home and dust even tabletop surfaces that are hard to clean. Buy a cordless Dyson handheld vacuum to save even more closet space. For a larger model that can quickly clean your carpet, look for a Dyson canister vacuum, which features a round, wheeled body and a long hose that can wrap around for compact storage. These Dyson vacuum cleaners are also particularly useful for cleaning staircases and even beneath furniture and in tight corners. You can also buy Dyson vacuums that feature both a canister and a slim upright style if you have a bit more room.

Look for a vacuum that removes allergens. Many Dyson vacuum cleaners contain HEPA filters, which are designed to trap the fine particles that other filters miss. The best Dyson vacuum will also expel clean, dust-free air and have enough suction to deep-clean carpets and remove pet hair, dirt and pollen. Buy a Dyson bagless vacuum with a large dust bin so you can clean all the floors in your home and easily dump the bin when it is full.

Buy Dyson Floor Care
Back to Guides Directory