Tips on Buying Drapes
by Lindsay Wilcox

You can add style to every room when you hang new drapes. You may want window drapes to complement existing decor or to set a new style in the room, but you'll want to think about other factors before you buy drapes. These tips will help you find the window treatments that work for your space.
Before Buying Drapes: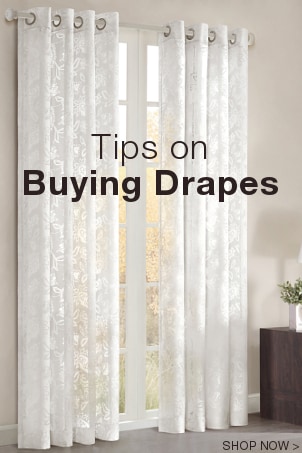 Shop Window Treatments ▸
Consider the function you want.

If you want to create privacy, buy lined drapes made of a dark, heavy fabric, such as brocade or damask, that will close tightly. Lined drapes are also ideal when you want to create a sophisticated look, as these layered window treatments add polish to any window. If your primary purpose is to block light, however, you'll want to buy blackout curtains, which feature a tightly woven backing that blocks most light from entering the window. These window coverings are also called thermal drapes because they help to insulate your home and reduce heat loss through the window.

Think about what will complement the colors in your room.

First, consider the color of the walls. If you'll be hanging window drapes in a room with bold accent walls, you'll want to look for patterns and solids that don't clash. Make sure to buy drapes that also balance the textures and colors of your furniture. Sheer drapes are the perfect balance for floral sofas and armchairs, while living room drapes that feature crisp pleats will add elegance to simple wooden chairs and benches. Pleated drapes are also appropriate for traditional decor, especially in classic fabrics, such as toile and taffeta.

Make a small window look larger.

If you want to make a small window look larger, consider buying pleated drapes made of linen for a fresh, polished look. You'll want to avoid heavy drapes made of canvas or brocade if you want to emphasize a delicate window.

Decide on a suitable fabric for the amount of sunlight.

If your window receives a lot of direct sunlight, you won't want to hang expensive silk drapes, as they can fade easily. Hang silk drapes and window treatments made of other expensive fabrics in rooms that don't receive a lot of sunlight; install thermal curtains in bright rooms to prevent heat loss and block unwanted light.

Don't forget about the hardware.

If you want to reuse existing curtain hardware, you'll need to choose new drapes that will work with it. Likewise, if there is a style of hardware that you want in the room, you'll need to make sure the drapes you buy are compatible. Generally, the heavier the drapes you choose, the sturdier the hardware you will need.