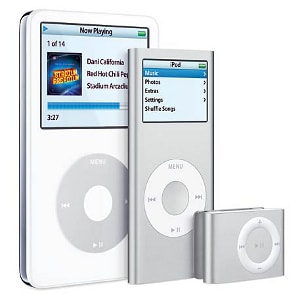 Digital music storage makes it simple and inexpensive to take your music, audio books and recorded broadcasts with you wherever you go. With an 8GB MP3 player, you can store hours of music and other recordings and carry them in your pocket. Some of the most popular and stylish digital music players available right now are iPods, and you don't have to spend a lot of money for a quality iPod or MP3 player. You can find great deals on discount iPods by knowing a few simple tips. Here are a few things you should know about finding discount iPods that give you more for your money.
Buying Discount iPods:

Refurbished iPods: A great way to find discount iPods is by looking for refurbished models. Because of the stigma of the refurbishing process, sellers often have to discount iPods even though they go through rigorous testing to be as good as new.

Previous generations: A new generation of iPod is released every few years. When a new generation is released, the price of the previous generation decreases. These discount iPods may not have the latest form factor or features, but they are still great MP3 players and video players. Previous generation players make great discount iPods because they are still supported by Apple's software, yet they are deeply discounted in order to clear the way for newer models.

Without video: You can find discount iPods without video playback and even without a screen at all. If all you need is a discount iPod that plays audio files, a model that doesn't have video is the way to go. You can save even more money by searching for discount iPods without other extra features, like scroll wheel controls, which is the case with certain iPod Shuffle models.

Smaller models: As with most things, you get what you pay for with discount iPods. You can buy the 4 GB model of the iPod Nano instead of the 8 GB iPod, and the price drops significantly. An older generation, discount iPod that plays music, but not video, will be much cheaper. Smaller, discount iPod models, with fewer features, won't cost as much.

Buy iPods
Back to Guides Directory