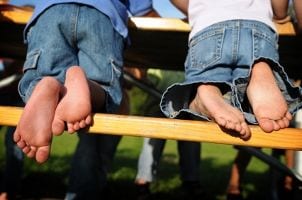 Keep your kids happy with furniture all their own when you buy children's picnic tables for your home. These small picnic tables can accommodate kids up to about age 7 and allow them to eat comfortably when they're not big enough for traditional patio dining sets. Whether you'd like durable plastic picnic tables to keep in your backyard or simple wooden picnic tables for your deck, the following suggestions will help you buy picnic tables that your children and your friends' children will love. Read on for tips on buying children's picnic tables.
Buying Children's Picnic Tables:

Look for a sturdy picnic table your kids can't tip over. Kids can get in a hurry when they're hungry, so you'll want to make sure you buy a kids' picnic table that is sturdy enough to withstand a little wear and tear from your children. If you're buying a folding picnic table you can store when not in use, make sure that the frame is made of quality steel or aluminum and that the parts lock securely in place. Whether you buy a folding picnic table or a simple round picnic table for your children, you'll always want to place it on a flat, level area so that it won't easily be tipped.

Find a children's picnic table that is easy to clean. Once your children have finished eating or working on crafts at the kids' picnic table, you'll want to be able to disinfect and clean it easily. Consider buying vinyl or plastic picnic tables you can wash quickly with a damp cloth or antibacterial wipe; you can even spray these picnic tables for kids with a hose if they're particularly dirty. Wooden picnic tables finished with a waterproof coating are also simple to clean and offer a more traditional, grown-up look than colorful plastic models do.

Buy a children's picnic table that is safe and durable. While color, style and material are all important when you're shopping for a picnic table for kids to use, you'll also want to buy picnic tables that are safe, especially when you have extended family or guests at your home. Check both square and round picnic tables for sharp edges or rough textures, especially if they're made of wood, and make sure that the seats can hold several children without bowing. You'll also want to choose picnic tables that are durable enough to last. Both wooden and plastic styles can be used for many years if they are well-maintained and stored properly during rainy and snowy weather.

Buy Patio Dining Sets
Back to Guides Directory