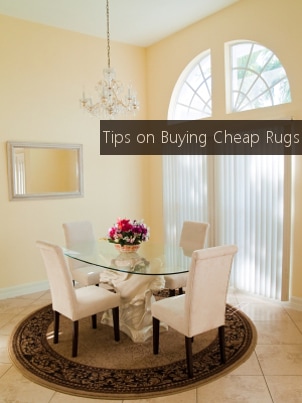 Rugs are a great way to make your home warmer, softer, and more inviting. If you have a large room or many rooms requiring rugs, the cost may seem prohibitive, but choosing cheap area rugs can make rug buying an affordable option in home decor. Cheap rugs don't have to be unattractive; by choosing the right rugs, you can update your home and keep your decorating budget in check.
Choosing a Cheap Rug:

Know what you want: When purchasing a cheap rug, it's easy to get sidetracked by a great deal. While giant, orange shag might be the cheapest rug around, it might also be the exact opposite of what you want. Purchasing a rug you hate isn't a good deal, even if the price is exceptionally low. Decide in advance what sort of rug you're looking for, so you're not tempted to buy the wrong rug just to get a good deal.

Be flexible: Knowing what sort of rug you want as you begin to shop is an important first step, but don't be too rigid. A general idea of what color, style, and pattern you want is a reasonable place to start, but if you want a cheap Oriental rug, you need to be a little flexible about the pattern, colors, or materials. Many Oriental rugs feature similar patterns, so remember that what's a major difference in your eyes might be a minute difference in the grand scheme of rug patterns.

Choose a complementary style: Some rugs lend themselves better to being made inexpensively than others. Although there are cheap Persian rugs available, you're more likely to find a cheap sisal rug that still looks good than an attractive cheap carpet. If you have a rustic-style or contemporary-style home, a natural-fiber rug will blend right in.

Embrace inexpensive: Don't try to make your cheap rug look like an expensive rug; pick up a cheap rug and use it for what it is. Cheap rugs are a great option when decorating outdoors. Choosing a cheap rug for your outdoor living room means you can change your rug to match your party theme and saves you from worrying if the rug gets wet or stained. You can also find deals when you buy rug sets; you'll have coordinating styles and you'll save money.

Watch for deals: Area rugs go on sale periodically throughout the year, so be sure to watch for deals, especially on styles that you particularly like. In general, January is a good month for rug sales, but you can find out about other sales by signing up for email alerts or checking for promo codes.
What Do You Want to Do Next?

Shop for Clearance Rugs
Shop for Rug Sets
See All Area Rugs
See All Guides
Read More Home Guides
Learn More about Area Rugs