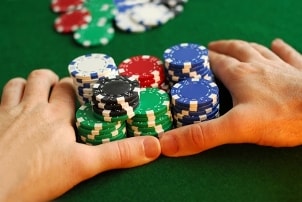 Whether you usually walk away from the poker table a winner or loser, you'd rather not spend all your stake money on poker chips. Fortunately, it's easy to find cheap poker chips that look and feel just the same as casino poker chips. By shopping online, you can still get Las Vegas-quality poker chips for the same price you might pay for plastic poker chips at a store across town from you. And by saving money buying cheap poker chips, you can spend a little extra money on a high-quality poker table for your rec room.
Buying Cheap Poker Chips:

Buy poker chips online. Buying poker chips online is smart for several reasons. Online retailers don't have the high costs of overhead that other retailers have. You'll also find a better selection online than anything you'll find in a brick-and-mortar store. It's also easy to comparison shop online. By buying poker chips online, you are more likely to find a unique set that your friends don't have already. You can order as many as you need, all from the comfort of your own home.

Buy poker chips in bulk. Buying poker chips in bulk not only gets you a better price on your chips, but you also don't have to worry about running out when you're in the middle of a high-stakes poker game. (You'll want to have about 50 chips per player.) Buying them in bulk also ensures that all your poker chips will match. Online stores often offer special deals to their customers who buy in bulk. Take advantage of those hard-to-pass-up prices.

Buy poker chip sets. By buying your new poker chips in a set, you'll usually get a good deal on the price. Buying a set will also provide you with other poker accessories you need to add some class to your home casino games. Poker chip sets often include a set or two of playing cards, a dealer button, a protective carrying case, and, of course, a large quantity of poker chips.

Buy lighter poker chips. Clay poker chips come in several different weights, ranging from about 9 grams to about 13 grams. Although you may find great deals on heavier chips, you will most likely pay less for lighter chips. Poker ships that are 9 to 11 grams will still have that satisfying feeling and that familiar "clinking" sound.

Buy plastic. If you aren't concerned about having heavy clay chips and just want a low price, shop for plastic poker chips. For a game with friends, plastic will get the job done, and the price will be considerably lower than it would be for clay chips.

Buy Poker Chips
Back to Guides Directory