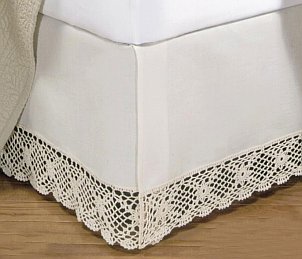 Your bedroom set isn't complete without a quality bedskirt. Bedskirts not only put a classy finishing touch on your bedroom decor; they also cover up the space beneath your bed so that you can store items there without ruining the look of your bedroom. While bedskirts are fairly simple to shop for, keeping a few tips in mind can ensure that you find the perfect one.
Buying Bedskirts:

Pay attention to the actual bedskirt dimensions. Sizes vary by company, and a twin-size bed skirt can have a 30-inch width with one company and a 38-inch width with another. A bed skirt that is too large or too small over the box spring will look uneven and may show strips of the box-spring cover.

Pay attention to drop measurements. Grab a measuring tape and measure the distance from the top of the box spring to the floor. Your measurement should be an inch or two longer than the bedskirt drop -- the length of the visible bedskirt material -- on the skirt you buy. If your bedskirt is too long, it will bunch up at the bottom; bedskirts that are too short will leave a gap, revealing items you have stored under the bed.

Be careful with white bedskirts. If your box spring is dark or has a pattern on it, it may show through a white bed skirt. If you want a white bedskirt, either put an inexpensive cover over your box spring to hide any patterns of colors, or make sure that you buy a bedskirt constructed from a dense, opaque fabric.

Make sure you like your bedskirt. Bed skirts don't suffer much wear and tear, and a decent quality one will last for years to come. If you don't mind buying a new one just for a change, then you'll have no problem; but if you don't plan on replacing your bed skirt until it wears out, make sure you really like the one you buy because you'll have it for a while.

Pay attention to material quality in matching sheet and bedskirt sets. Sometimes bed skirts that come with sets are made from sheer materials that may not adequately cover your box spring. While you don't need a bed skirt made from material as fine as your sheets, it should be made from decent fabric, and the drop should be long enough to fall to an inch or two above the floor.

Press your bedskirt before you use it. Your bed skirt will have wrinkles when you take it out of the package. Save yourself some hassle and iron it before you put it on for the first time.

Buy extra-long bedskirts for raised beds. If you have an extra-high bed and you want your bedskirt to fall to the floor, don't assume that a normal bedskirt will work. An average bedskirt has a drop of around 14 inches, but many bedding stores carry bedskirts with drops of 18 inches or more.

Buy Bedskirts
Back to Guides Directory