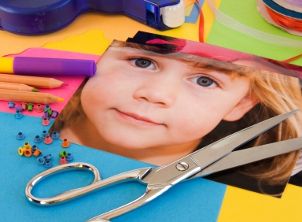 Stock up on quality crafts products for your children to use or for your own arts and crafts projects. You can score great deals on the crafting tools you need online. Whether you're working on kids' crafts, holiday crafts or easy crafts to give as gifts, you need affordable craft supplies that work for many different projects. Read on for tips on buying arts and crafts supplies online.
Finding Craft Products for Less:

Purchase quality adhesive for various projects. Once you've completed stunning arts and crafts projects, you need to be sure they will be durable and won't fall apart. That's why you need craft glue and fabric glue available at craft supply stores. Simple glue sticks and glue dots work well for scrapbooks and paper crafts, but a glue gun and fabric or craft glue work best for thick projects made of wood and other materials. Look for spray adhesive and other similar craft supplies to adhere loose beads, glitter and other hard-to-glue items.

Buy paper and cardstock packs. Even the most basic crafting projects will often include patterned paper and cardstock, so why not purchase multicolored packs you can keep on hand? Simple origami patterns are great for easy crafts, and you can often find seasonal patterns and designs perfect for creating holiday crafts.

Paint with all the colors. Many craft ideas call for acrylic paint, markers, colored pencils, spray paint or other coloring supplies to give your projects a special touch. If you plan on working on crafts with your children, make sure you have water-based paints and markers on hand. Painting wood and metal crafts calls for thicker paint that won't wash away or fade easily. Check out chalk, oil-based paint and ink sets for other craft ideas that will add vibrant color and unique patterns to your crafts.

Don't forget to get embellishments. Once you have basic arts and crafts supplies, including paper, scissors, glue and fabric, it's time for the icing on the cake that makes your crafts extraordinary. Purchase glitter, beads, metal hardware, appliques and fabric paint at an online craft supply store to add color and texture to kids' crafts.

Buy Crafts
Back to Guides Directory