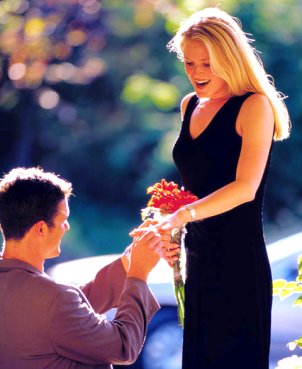 Popping the question can be very exciting, but also nerve-wracking. Even if she says yes, you still may worry whether or not she likes the ring you've chosen. Not only will she wear and look at it day in and day out, but engagement rings symbolize the couple's commitment and love for each other. A good amount of thought and sincerity should be put forth before you buy a ring for your significant other. By following these tips and guidelines, you can be sure she will love the ring as much as she loves you.
Engagement Ring Buying Tips:

Stick to your budget: Decide on a budget before you start shopping for a ring and stick to it. Traditionally, the cost of the engagement ring is roughly equal to about two months' salary. Your budget may be more or less than this. Keep in mind that the engagement ring is a symbol of your love and look for something that reflects your love for your fiancee. You can easily find beautiful, high-quality rings for every budget.

Choose a band and setting: A lot of attention goes to the diamond, but the band and setting of the ring are just as important. Think about what kind of metal you want the ring to be. Gold and white gold are traditional choices, while platinum is more expensive but much more durable. Look at the width of the band and whether it is smooth and simple or has etched or cutout detailing. The setting holds the diamond on the band, and settings are as varied as diamonds. A classic prong setting is always elegant, but a bezel or tension setting creates a more modern look.

Select a diamond: In general, there are four characteristics, known as the 4 C's, you should pay attention to when buying diamonds: clarity, cut, color and carat. Color and clarity are determined on a scale and can signify the quality of the diamond. The carat weight and cut are more of a personal style choice, depending on the size of the diamond she wants and the cut, or shape, she prefers. Learn more about the 4 C's with our diamond buying guide.

Know her style: Pay attention to certain clues and hints about her taste preferences, including the type of jewelry she already wears. Are the pieces simple and elegant, or does she tends to wear more standout pieces? Unless you want the proposal to be a complete surprise, you can even ask her what her preferences are. Does she like yellow gold or platinum? Does she want a traditional diamond solitaire or a more modern setting? Paying attention to her style and taste is the easiest way to find out what type of ring she'll like.

Think about practicality: Keep in mind that your soon-to-be wife will be wearing her ring every day, and make sure it is something she'll be comfortable wearing. The last thing you want is for her to have to take her ring off because it is uncomfortable or for the diamond to fall out because the ring gets bumped or snagged. If she spends a lot of time outdoors or has a more active job, you may want to find something smaller with a low bezel setting that will hold the diamond securely in place. If there is no worry of the ring becoming damaged or lost, you can buy her a ring with a larger stone and decorative setting.

Consider wedding sets: Once you have an idea of what type of ring she'll like, you may want to consider buying a bridal set that includes both the engagement ring and wedding band. Sets are designed so that the rings perfectly complement each other and sit comfortably together on her finger. Buying the rings in a set is a good idea if you want her engagement ring and wedding band to match flawlessly. Give her the engagement ring when you propose; then save the band for the wedding day.

Buy Engagement Rings
Back to Guides Directory