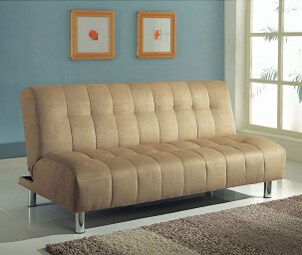 Sofa beds are popular because of their versatility. Sofa beds spend most of their time as seating, but they can convert into a bed when guests need a place to sleep, giving you two pieces of furniture in one. Popular styles include the traditional pull-out sofa, futons and new-style convertible sofas that combine elements of other styles. This combination of a bed and a sofa not only saves you money but space as well.
Sofa Bed Tips:

Make sure it fits. Before shopping for a sofa bed, think about what room of your home it will be in. Allow plenty of space in the room for the sofa bed to function as a bed. In a small room, a smaller, futon-style bed might fit better than another style. A large room should easily accommodate more traditional styles of sleeper sofas.

Match it to the room. It is important that the sofa bed works well with the existing decor of your home. In your living room, it will likely be a centerpiece of your home, and you might want to consider a traditional, pull-out leather sofa bed. But in a guest room, you might like to provide some flair with a convertible bed covered in red microfiber fabric.

Determine how it will primarily be used. Is your sofa bed going to be used more as a sofa or a bed? If you will use the bed mostly as a sofa, think about getting a sofa bed with cushioned armrests and a more rounded backrest. If your sleeper sofa will be slept on more often than sat on, look for a mattress with high-density foam or a spring coil mattress. Storage space, like some sofa beds offer, might also be nice for keeping sheets, blankets and pillows close.

Consider who is likely to be sleeping on the bed. Younger kids don't weigh much and receive adequate support from almost any sort of bed. Older guests will want better support from the mattress, and a futon with a foam mattress is not likely to provide this support. Teens and college kids are often pleased to just not be sleeping on the floor, but it still nice to give them a fairly supportive mattress, especially if they will be frequent guests.

Buy Sofa Beds
Back to Guides Directory