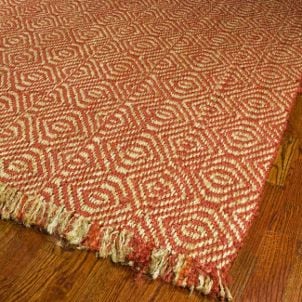 Add exotic texture to your living room or bedroom with a sisal rug that fits your home's decor. Sisal flooring can protect hardwood floors and enhance carpet in entryways and hallways. Stylish sisal mats are also made of natural fibers, making them environmentally friendly. Whether you have concerns about buying the right size or finding a blend that will be comfortable under your feet, this guide will answer your questions about sisal area rugs. Read on for tips on buying a sisal rug for your home.
Shopping for a Sisal Rug:

Choose a size. If you want area rugs to cover the tile or hardwood floor in your dining room, you'll want to buy a large sisal carpet that will fit beneath your table, about 9 feet by 12 feet. To protect your entryway from dirt and mud, look for round or square sisal mats about 6 feet across. A sisal runner is the perfect accent for a slippery hallway, too.

Think about texture. Sisal, which is traditionally used to make twine and rope, can create natural rugs with a rough, coarse surface. While you may want this consistency in a stylish, laid-back living room, you may want to look for area rugs blended with other fibers for a more comfortable feel. Wool-blend sisal flooring can give you a softer touch and appearance.

Consider the rooms in which you need rugs. While sisal area rugs can enhance even the smallest rooms, such as a bathroom, you'll want to decide whether these natural rugs will work well with your home decor. A sisal carpet may not be the best option for a child's room, and you probably won't want to place rugs made of sisal in a high-traffic area, such as a playroom, as they can become dirty easily.

Buy shapes that fit your home. For a retro look, place round sisal floor rugs on top of each other in the center of a living room or family room. Rectangular floor rugs work best in a long room or beneath the dining room table, while oval rugs can be placed under end tables. A sisal runner will complement a rustic bed in the master bedroom.

Buy Sisal Area Rugs
Back to Guides Directory