Tips on Buying a Persian Rug
by Lindsay Wilcox

Add classic elegance and rich texture to your home with a Persian rug. These stunning area rugs, which date back to ancient Persia, are traditionally made in Iran, though the designs are often copied and made in other countries, too. Whether you are interested in silk Persian rugs for your dining room or Persian carpets to complement the antique furniture in your living room, these tips will help you to find durable, well-made rugs for your home.
Shopping for a Persian Rug: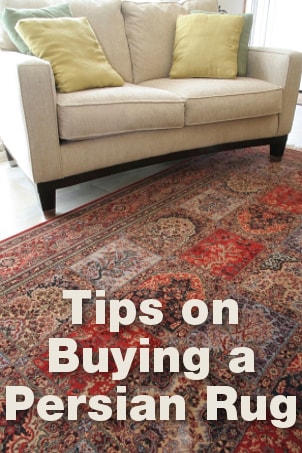 Shop Area Rugs ▸
Know the differences between handmade Persian rugs.

Most Persian carpets and rugs made in Iran are handmade, many of them with hand-dyed yarn and traditional weaving techniques. These exquisite handmade Persian rugs are always made with natural fibers, such as wool, silk, or cotton, and can last for up to 80 years if cared for properly. While hand-knotted Persian rugs are usually very costly because of the amount of work that goes into making them, you can buy hand-tufted rugs for much less; hand-tufted rugs are created using a modified drill gun and only take about a week to make, while it can take up to a year to knot a handmade Persian rug.

Consider buying a machine-made Persian rug.

If you don't have a lot of money to spend on a Persian area rug for your home, you'll want to think about buying a machine-made rug. Although these area rugs are typically made in countries outside of Iran and often contain synthetic fibers, such as nylon, acrylic, and viscose, you can still find quality machine-made wool Persian rugs. This is a great way to get the look on a budget. You can also find machine-made rugs that are suitable for outdoor use. Before buying either machine-made or handmade rugs, check the description to see which fibers have been used to make it. Machine-made wool Persian rugs will be more durable than similar rugs created only with man-made materials. A quality machine-made Persian area rug can last up to 20 years when taken care of properly.

Decide on colors and patterns.

Persian rugs are sometimes grouped together with Oriental rugs because the traditional patterns are very similar. Bold rugs that feature striking patterns with medallion designs and vibrant colors are popular. If you would like a more muted style, however, look for Persian rugs in beige, cream, sage green, and brown. Persian rugs are neutral enough to work with any decor. Invest in wool or silk Persian rugs for your home when you want a luxurious accent in your living room or dining room.

Choose the right size rug.

No matter which style you choose, the best way to make sure the rug looks right in the room is to get the right size. If you're not sure what size is right for your room, read our guide on determining the right size area rug.

Don't forget to get a rug pad.

You'll want to protect your beautiful new Persian rug with a rug pad underneath. Rug pads prevent friction to help the rug wear more slowly.