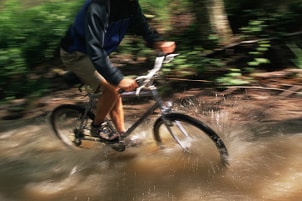 Whether you like charging uphill, flying downhill or cruising cross-country, finding a mountain bike that meets your needs is important. Different bikes are designed for different terrain and riding styles. You'll want to consider several features when looking to buy a mountain bike.
Mountain Bike Features:

Full-suspension or hardtail: Full-suspension mountain bikes have suspension components in the front fork and in the rear of the bike, whereas hardtail bikes only have a front suspension. Full-suspension bikes give maximum shock absorption and comfort while you're riding rocky trails, but this can come at a higher price. Hardtail mountain bikes tend to be lighter and less expensive than comparable full-suspension mountain bikes.

Bike size: The frame size of a mountain bike isn't as important as you might think becase the other components (handle bars, seat and pedals) can be adjusted to give you your optimal riding position. You will typically want a mountain bike that is a few inches shorter than a road bike. Most men will want a mountain bike that measures 18-21 inches. Most women will fit well on a mountain bike that is 16-19 inches.

Mechanical pull brakes or disc brakes: Disc brakes usually provide greater stopping power and work better when mountain biking in wet, muddy conditions. Mechanical pull brakes tend to be more affordable, and they would probably be sufficient if you don't typically ride on wet terrain.

Lever-style shifting or twist-style shifting: Twist-style shifting mechanisms are usually located on the inside part of each handle and require you to twist them forward or back. Lever-style shifting mechanisms shift when you flick a lever forward or back. Both mechanisms work in nearly identical ways, and your choice will be based on personal preference.

Buy Mountain Bicycles
Back to Guides Directory