Tips on Buying a Lightweight Suitcase
by Staff Writer

Lugging a heavy suitcase through the airport can make a stressful trip even harder, but a lightweight suitcase could help you zip through the lines and up to your terminal with ease. Additionally, many airlines require you to use light luggage in order to meet weight limits as well as size restrictions. These tips will help you find the perfect lightweight luggage so you can meet those restrictions and get through the airport easily.
Lightweight Suitcase Buying Tips: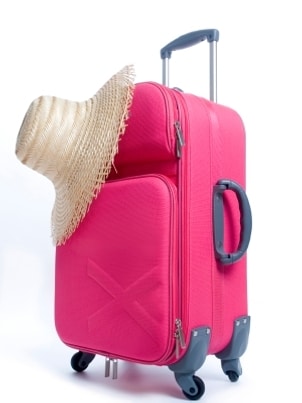 Shop Lightweight Luggage ▸
Definition of a lightweight suitcase:

First, it's important to know how much lightweight luggage can weigh to earn the name. A 22-inch upright must be under 10 pounds when empty to be considered lightweight, and the lighter, the better. Some lightweight bags weigh even less, like 8 pounds or 4. The lighter the luggage, the more you can pack in it, so if you aren't good at packing light, be sure to look for the lightest suitcase you can find.

Hard or soft lightweight suitcases:

It's possible to find lightweight luggage with either hard or soft shells, although soft-sided bags tend to weigh less. If you want the strength and durability of a hard-sided suitcase, choose one made of ABS or polycarbonate, as these are the lightest hard-shell materials. Light luggage made of durable, rip-stop fabrics, like nylon, or fabrics with thick weaves, like Cordura, makes the best lightweight luggage. These fabric suitcases are often just as durable as hard-sided luggage sets, but lighter.

Look for lightweight frames:

Most uprights and pieces from luggage sets will have frames; lightweight bags and suitcases will have frames made of light materials, such as aluminum, fiberglass, or graphite. The lightest suitcase frame should be flexible, like a honeycomb frame. This ensures that your bag can pop back into shape and provide support even while being lightweight. Collapsible frames are even better, as they provide all the same benefits of lightweight bags while being easy to store.

Extra features can add weight:

When you're choosing your lightweight suitcase, you'll need to consider which features are important to you, as they can affect the weight of your bags. Inline or spinner wheels and telescoping handles make pulling your luggage behind you lots easier, but they can make your suitcase too heavy for you to pack everything you need. Expandability is certainly a great feature for any bag to have, but on a lightweight suitcase, it might tempt you to over-pack.
Lightweight Luggage Tip
While lightweight suitcases and luggage certainly help you meet the weight restrictions of airplane flights, the real key is to pack light. Read our guide on packing in one bag for tips on packing light.