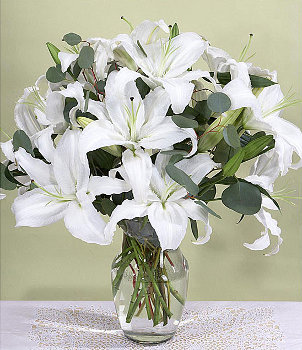 Burying your loved one and making funeral arrangements, like purchasing a casket or arranging for flower delivery, is a difficult and painful process. Make things simpler for you and your family during this grieving period by learning how to choose the proper casket. Whether you're looking for a wood casket, steel casket or other funeral casket, there are a few things to know that will help you select the right burial casket as a final resting place. Read on for tips on purchasing a casket.
Buying a Casket:

Keep your loved one's wishes in mind. If possible, discuss funeral plans in advance and write down your family members or friends' specific desires. Ask them which burial casket they prefer, talk about music and flowers and be sure to discuss the location of the funeral and the interment. Noting personality traits and preferences will help you to decide on an appropriate funeral casket.

Buy a luxury casket as a tribute. For a parent or spouse, a wood casket lined with satin or velvet is a respectful tribute. Look for a mahogany casket that includes a mattress and soft white bedding, along with polished handles and end caps. If you plan on holding a viewing, look for special caskets with a thoughtful memorial tribute printed inside. For a classic look, buy a mahogany casket with a front overlay drape to lay your loved one to rest in peace.

Purchase a steel casket for durability. Show respect to a beloved father or grandfather with a steel casket. Find one painted with a metallic finish for a more formal look and look for a steel casket that also includes luxury bedding with velvet and satin trim for a fitting tribute.

Embrace simplicity with a pine casket. Lay your loved one to rest in a simple pine casket lined with crisp linen bedding for a clean, earthy look that offers reverence and solitude. A pine casket is especially appropriate adorned with sunflowers and other similar plants, and its classic shape works well for many different tastes and funeral preferences. Although simple, pine caskets make a beautiful and sturdy resting place.

Buy Caskets
Back to Guides Directory