Tips on Buying a Carpet Pad
by Lindsay Wilcox
Published January 21, 2011 | Updated March 27, 2015
Protect your new area rug from wear. With the right rug pads, you can keep your rugs from slipping and bunching on the floor. Rug pads also prevent flooring from wearing out prematurely. Here's what to look for when you're shopping online for rug pads.
Buying the Best Carpet Pads: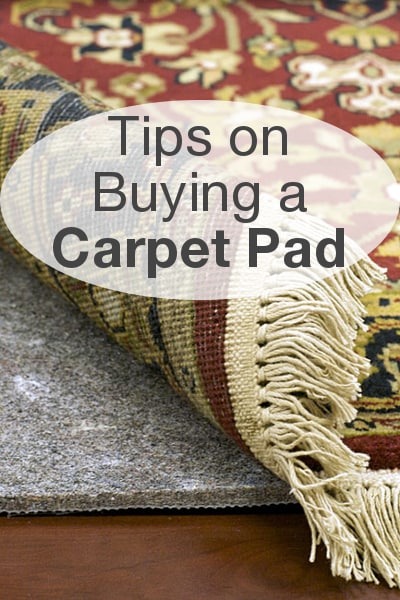 Shop Rug Pads ▸
Buy a non-slip pad for hardwood floors.

To prevent your area rug from sliding across the floor, shop for a non-slip rug pad you can place beneath it. These are the ones that have a mesh look to them.

Add cushioning in your living room or bedroom.

Make walking on rugs more comfortable with a thick felt carpet pad. You don't need rug padding if you're placing your rug over wall-to-wall carpet, but you can add a bit of cushioning to a rug on a tile or hardwood floor with a felted rug pad.

Prevent accidents with the right rug pad.

If you're forever tripping over your entryway rug, look for a rubber carpet pad that won't allow the rug to roll up or bunch in the center. Use one under a runner rug in a high-traffic hallway of your home, so it will stay in place. Carpet pads can also protect old rugs from lumping or sinking and keep you from stubbing your toes. Look for an ultra-non-slip runner rug pad for these high traffic areas.

Protect your rug or carpet from wearing out quickly.

If you have area rugs in high-traffic areas, such as a hallway or entryway, you'll want to extend its life by placing durable padding beneath it. Rug pads can prevent your favorite rugs and carpeting from developing holes or fraying around the edges. Area rug pads also protect hardwood floors from spills that seep through rugs or carpets.

Look for environmentally friendly products.

Buy a pad made of plant-based oils for a natural alternative to a PVC non-slip rug pad. These carpet pads are made with sustainable, renewable resources and are often biodegradable, too.

Choose the right size.

Most pads comes in standard rug sizes, but you can usually trim your rug pads to fit if they're too large; when in doubt, buy a larger size, especially if your rug is an odd shape or is in-between sizes. It's better to start with a rug pad that's slightly too large and trim it down than use a rug pad that is considerably smaller than your area rug, which could cause uneven wear to the edges of your rug.