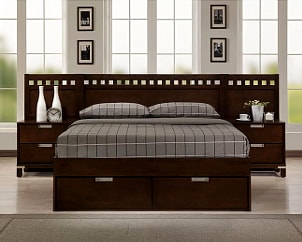 Few things are better than sinking into your bed after a long and hard day. Your bedroom should be a place of comfort and relaxation that rejuvenates you and prepares you for your next big day. Since you use your bed a lot, you'll want to take the time to find the right bed that makes you feel at peace with yourself and your surroundings. With the wide variety of beds available, finding one that is right for you is easy when you take the time to do a little research. Keep reading for more helpful tips on buying a bed.
Bed Shopping Tips:

Measure your room. When choosing what size bed to buy, you'll have to consider a few important facts. You need to know how big of a bed you'd like to sleep in and how much room is available for your new bed; then you may need to compromise between the two. While you might be able to squeeze a king-size bed into your tiny bedroom, a bed that big may not leave enough room for walking, storage or other pieces of bedroom furniture. Choose a bed that will complement the space of your bedroom.

Do your bed research. The number of beds to choose from has rapidly increased in the past few years. There are several different styles to choose from, including platform beds, canopy beds and storage beds. You can find platform beds in several materials, like metal, wood and leather. They're also stylish and don't need a box spring mattress. A canopy bed is a fashionable choice for bedrooms with high ceilings. Storage beds alleviate space issues by providing drawers to store clothes and other belongings under the mattress. Also be sure to consider the mattress itself; memory foam, pillow tops and various firmnesses can all contribute to your sleep and relaxation.

Makes sure your bed matches your pre-existing bedroom furniture. A sleek and shiny metal bed will look sadly out of place when paired with traditional warm cherry-wood furniture. Before you purchase a new bed, make sure you take the time to notice the styles and materials of your other bedroom furniture. Match the style and color as close as possible in order to avoid buying furniture that is distracting. Furniture that matches can create a cohesive, tranquil feel in bedroom. If you really love a certain bed but it doesn't match what you already have, you may consider purchasing a bedroom furniture set.

Buy Beds
Back to Guides Directory