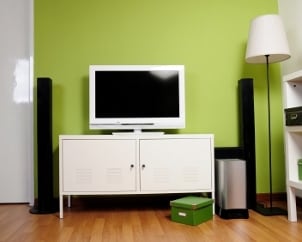 Home-improvement projects offer challenge and reward. One of the most rewarding do-it-yourself electronics projects is building your own home theater system. Whether you plan on building your home theater room from scratch or adding a surround-sound system to your existing entertainment center, there are plenty of home audio options to fit your plans. Here are a few tips to help get your home theater project started.
Building a Home Theater System:

Build the room from the ground up. Built-in home theater speaker systems and components can create an authentic theater feel. Constructing the room with a home theater system in mind gives you the chance to pick the right acoustic materials and hide unsightly cables in walls and custom cabinets.

A home theater in a box is easier to install. If building or remodeling an entire room isn't in your plans, you can still find simple solutions. A home theater in a box (HTIB) system offers impressive power and sound with very little setup required.

Upgrade components from the start. You may have old components, like an old DVD player. It may still work great, but you can avoid future remodeling and incompatibilities if you upgrade to a newer technology, like Blu-ray. It's best to make your home theater system as future-proof as possible, and that's easiest with the latest technologies.

Consider room acoustics. The shape and construction of your room can affect the sound quality of your home theater system. You can improve acoustics by ensuring that around 50 percent of the surfaces in the room are sound absorbent. For example, placing rugs or carpets on the floor and curtains over the windows can reduce the amount of echo and reverberation you experience.

Include sound to another room. A 5.1 home theater system provides great surround sound. But you can utilize a home theater receiver in two rooms at once by installing a 7.1 speaker system. Simply wire two speakers into a nearby room for music. Some home theater systems will even allow these extra two channels to source a CD player or MP3 input while the other five channels provide audio from another source, like a movie.

Buy Home Theater Systems
Back to Guides Directory