by C.D. Crowder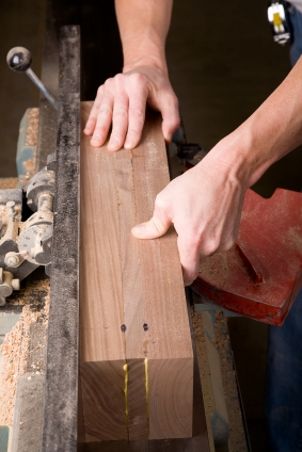 Are you interested in taking up woodworking as a hobby or career? Woodworking equipment designed for beginners and professionals allows you to create both small and large wood crafts. Beginning tools include a variety of small hand-held tools, power tools and a few larger tools to make many woodworking jobs easier.
Woodworking Tools:

Basic necessities: Every woodworker needs a set of both metric and standard wrenches and sockets. This allows you to handle nuts, bolts and screws of almost all sizes. A beginner's toolbox should also include a set of both Philips-head and standard screwdrivers. In addition to these woodworking tools, a tape measure, small level, a set of pliers and a hammer are essentials. These will be used for most woodworking projects around the home.

Drills and sanders: A cordless or corded drill with a set of drill bits is a must-have. Cordless drills often come in sets complete with a flashlight, reciprocating saw and small circular saw. All-in-one cordless sets work well for beginners and professional woodworkers alike. For larger projects where sanding is required, a random orbital sander makes sanding jobs much easier. These sanders leave a smooth, even finish.

Workbench: A woodworking bench is vital for medium to large woodworking projects. These stands help balance pieces of lumber while cutting and measuring. Woodworking benches fold up for easy storage and many have wheels for added mobility. Some workbenches have storage areas for holding hammers, screwdrivers and other woodworking tools.

Table saw: For sawing lumber and making larger cuts in wood, a table saw is necessary. Contractor table saws are smaller and more portable than a standard cabinet table saw and are perfect for beginners. Guides are available for table saws to help guide wood on the table for perfect cuts.

Clamps: A set of clamps is an incredibly helpful piece of woodworking equipment. It holds projects in place while you're waiting for glue to dry or preparing for staining and painting projects. Small to medium C-clamps are the most popular for beginners, due to ease of use. These clamps can be used for most woodworking projects.

Buy Wood Crafts
Back to Guides Directory