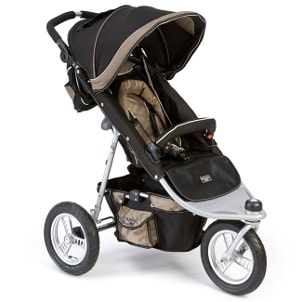 Most new parents dream of spending a quiet afternoon walking their baby in a stroller around the park. It is important to remember, however, that if you don't follow a few safety guidelines, a stroller can pose risks to your child's health. Similar to buying and using a car seat and other baby items, it is important to consider safety guidelines in order to ensure your child's security in a stroller. Whether you are getting ready to use a stroller for the first time or are starting to shop for one, take some time to learn about proper stroller safety to ensure that those peaceful walks with baby are secure and stress-free.
Stroller Safety Tips:

Consider stability when shopping for and using a baby stroller. Stability can be checked in several ways. You can tell quite a bit about a stroller's stability based on its wheels. In general, a stroller should have a wide wheelbase for the most stability. Also, if the baby stroller is equipped with an under-the-seat basket, look for one with a basket that sits low, perched just above the wheels of the stroller, to keep the stroller stable. You should also check to see that the stroller's other parts are evenly set and well-proportioned.

A stroller's features will say a lot about its safety. When you're shopping for strollers, consider safety features such as locks and safety belts. Strollers need to have locks or brakes on the wheels to prevent the stroller from rolling when you are loading and unloading the child. They should also have locks on any moving parts so that they do not move while in use. This includes the snack tray if it is removable, the folding mechanism and any reclining seats. Strollers have a variety of safety belts, but generally, three-point safety belts and five-point harnesses are the most secure for your child. The most important thing about a safety harness, however, is that it gently but securely holds your little one in the stroller. The safety harness type you choose will depend partly on your personal preference, but if you are buying a jogging stroller, look for one with a five-point harness to keep your baby secure when you are moving quickly.

Once you have chosen your stroller, practice proper safety habits while using it. Don't waste your stroller's safety features by not using them when you take your child out for a walk. Always use the full safety harness when your baby is in the stroller and get into the habit of locking the wheels and other parts whenever you are stopped. If you are transferring your baby to the stroller from the car, keep him safely secured in his car seat while you open the stroller, as infant's small hands can easily get pinched, and toddlers can quickly get away from you in a crowded parking lot. Make sure the stroller is locked in the open position before removing your baby from the car seat and if you are using an infant carrier with the stroller, make sure the carrier locks in place.
Warnings:

Make sure you know the manufacturer's weight limit of the stroller you purchase and carefully consider your child's weight as they grow, replacing your stroller if needed. Similarly, do not overload a stroller with more children than it was designed to hold.

Avoid placing heavy bags or other items on the handle or top of your stroller. If your stroller is top heavy, it can easily tip over when you let go.

Always keep your eyes on your child while using a stroller. Do not walk far from the stroller assuming that the child is safe while inside it.

Buy Strollers
Back to Guides Directory