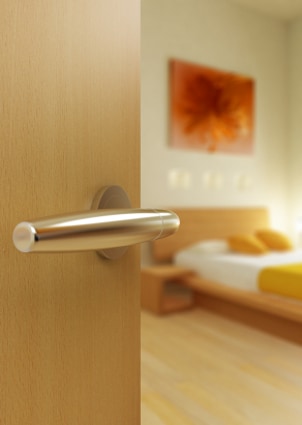 There are several situations that require you to change one or more doorknobs. You may have painted and need to update your door hardware. Or you may have broken doorknobs or door handles you want to replace. Whatever you situation may be, here are some common tips for replacing doorknobs to help you know what to expect and avoid common pitfalls or mistakes.
Replacing Door Knobs:

Change door knobs that are loose or broken. Broken door knobs may not seem like a significant bother until you find yourself locked out of the house or in the bathroom. And, loose door knobs can create wear patterns or other damage to door frames, moldings and the door itself. It's best to repair or replace malfunctioning door knobs soon after you notice a problem.

Update door knobs to accent your decor. When you remodel or paint, those old door knobs may not seem to fit with your new style. Maybe those old door knobs just seem a bit rough and worn. Update your old door hardware to match and use the old working knobs in places out-of-sight, like on garage or basement doors.

Place locking door knobs facing inward. A common mistake made when replacing a door knob is to put the interior lock on the wrong side of the door. Make sure to preview the end result of your work by holding the knob in place before you attach any bolts. Every time you have to remove a door knob, it can get scratched. Getting it right the first time will keep your door hardware looking pristine.

Remember to change the strike plate and hinges. It can be easy to forget to replace the strike plate, which is the metal plate surrounding the latch hole on the door frame. Unless the strike plates and hinges match your new door knobs, you will probably want to replace them.

Check the alignment of the bolt. An improperly installed door knob can also mean that the bolt cylinder is crooked or off-center. Weather stripping can also affect how the door closes. Make sure that the bolt moves in and out properly when you turn the knob. And make sure the door closes and latches properly.

Child-proof your home by replacing door handles. Some rooms in your home may not be kid-friendly, or you may just want to keep your little ones in a certain part of the house. You can make it a little tougher for the kids to open off-limits doors by installing door knobs in place of door handles. Door knobs are a bit trickier for small toddlers to operate.

Buy Doorknobs
Back to Guides Directory