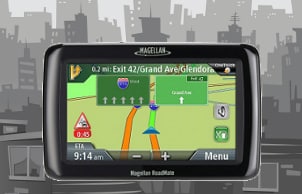 Whether you're traveling around town, across country, or out on the trail, add control and versatility to your trip with Magellan GPS navigation. You can plan routes, mark important locations, and find directions through a simple, intuitive interface. That's only the beginning of truly advanced GPS navigation from Magellan, however. You can get the most out of your Magellan GPS with just a few customizations.
Customizing Your Magellan GPS:

Save important routes. When you're planning a cross-country road trip, it's a great idea to save multiple routes on your GPS. You can also save your favorite locations for quick reference, tweaking your traditional routes for efficiency and saving the changes. You may also want to save important bookmarked locations along your route for road trips or other long rides.

Check for firmware updates. You'll periodically need to update the firmware on your navigator, which helps fix bugs and adds new features to your unit. You may be able to download these directly to your Magellan GPS if you have a data subscription with a wireless carrier; otherwise, you'll need to connect to your computer in order to download updates.

Get the latest map updates. Maps change; roadways are constantly under construction, with old routes being altered or disappearing while new ones open up. New topographical maps of wilderness areas may also become available since you bought your GPS. Make sure to update your Magellan GPS with the latest map packs to be sure that you don't run into delays. If you purchased your navigator with free lifetime map updates, new downloads shouldn't cost you anything.

Add functional GPS accessories. A good dashboard or windshield mount can help you navigate hands-free while still keeping the screen easily within view, and you may need a charger to keep you GPS unit powered during longer trips. You may also want a carrying case to help organize your accessories as well as keep your GPS unit protected from bumps and scratches.

Access live traffic data. Live traffic updates, along with smart rerouting, may be one of the highlighted features for Magellan GPS. Traffic services can help you identify congested areas in your area and may even automatically offer you alternate routes based on the time of day and average traffic speeds. Some traffic services are subscription based, but a subscription may be worth it if it saves you from becoming trapped in gridlock.
What Do You Want to Do Next?

Shop Magellan GPS Navigation
Shop All GPS Navigation
See All Guides
Read More Electronics Guides
Learn More about GPS