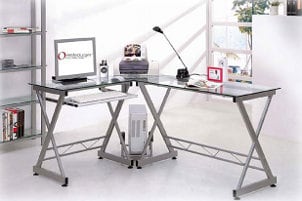 Your desk is where all the action happens: It's your control center, your communication hub, and your personal learning center. You can keep that space organized with the proper desk accessories. Desk organizers can help you keep all your files, office supplies, and tools clearly sorted and easy to find. When choosing desk organizers, consider the size of your desk space and what type of desk area will be ideal for your work style. Here are a few tips to get you started selecting the right desktop organizer.
Choosing Desk Organizers:

Use your work area. Whether you have a wide open area or a compact workstation, the space immediately around your desk needs to be structured. You may want to consider what your workflow will be like. If you don't have much open space on your desk, you may want some desk organizers that will move documents away from your workspace, like a mail organizer or vertical document holders.

Consider what office tools you use. Staplers, pencil sharpeners, calculators, and other office tools can crowd a workspace. Desk organizers with cubbyholes or drawers can store office tools until you need them. Choose one that will contain all the tools you like to have at hand.

Target disorganized trouble spots. Do your receipts pile up? Do you need to designate a place for invoices? Almost every desk has a dumping area for miscellaneous documents. Target those areas and look for desk organizers that can store those documents in a way that keeps your desktop clear.

Save room for extra storage. It's always a good idea to have more storage than you need. An extra desk organizer can help handle things that don't fit anywhere else. A little extra storage space can help you expand and differentiate your current organization scheme as well. Desk organizers that connect to walls or slip under your desk are great because they don't crowd your desk.

Develop your own style. Desk organizers come in multiple styles, sizes, and materials. Go for a classic leather and wood style or add desk organizers with the flair of a few bright colors and patterns to differentiate your workspace. Organizers that reflect your style will help inspire you to keep your desk tidy.

Buy Desk Organizers
Back to Guides Directory