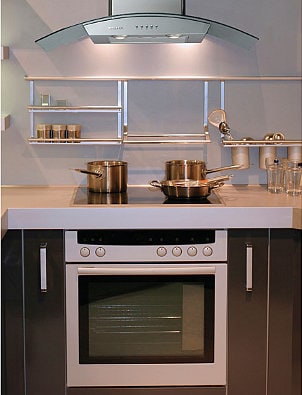 If you're in the market for a new kitchen range, you'll find a wide number of ranges and ovens. Whether you want a gourmet stove with eight burners or an apartment-size kitchen range, a few basic tips will help make your purchase easier. When selecting a kitchen range, your home's energy source, the available space and your budget are the main considerations. Here are a few tips to help you get started looking for a new range for your kitchen.
Choosing a Kitchen Range:

Measure the space in your kitchen for your new range. Most houses built in the last decade, allow room for a standard-size gas or electric range that is 30 inches wide, but older homes or custom homes may vary. If you are remodeling, select an electric or gas range before building your kitchen to ensure that you will have enough space for your dream stove.

Consider how often you will use your range. If you cook large meals on a consistent basis, having a stove with numerous burners will help you save time. Other options include built-in grills and storage drawers. If you don't cook often or don't plan on using extra features, a more standard kitchen range is appropriate.

Selecting gas or electric ranges. Electric stoves are convenient, but gas stoves are generally more energy-efficient. If your home does not have a gas hookup, your choices are more limited. Gas stoves may be easily converted to burn propane with a simple adjustment valve.

Choose a cooking surface. Electric kitchen ranges offer the options of a smooth stovetop or traditional coil burners. If you cook for extended periods of time, the traditional burners are the best choice. Smooth-top stoves are easier to clean but are not meant to be used for extended cooking periods because the surface can crack. In addition, cast-iron cookware can't be used on a smooth-top cooking surface.

Select your color and style. Besides basic white, kitchen ranges come in stainless steel, black and many colors to blend with any kitchen decor. Be sure to include existing kitchen decor in your selection.
Kitchen Range Tip:

If you're switching from a gas model, you may want to hire an electrician to install wiring for a new electric range. An electric range must have its own breaker, and it may also require a higher voltage outlet and wiring.

Buy Ranges and Ovens
Back to Guides Directory