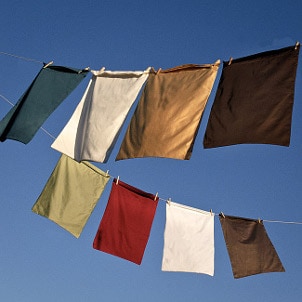 If you have a surplus of king sheets taking up space in your linen closet, try using them in different ways. Flat king-sized sheets aren't confined the bed, so take advantage of their large yardage and use them creatively around the house. Buying king-size sheets is often cheaper than purchasing raw fabric, and they are already hemmed, which makes sewing projects easier. Keep reading to learn three unique ways to use king sheets.
Repurposing King Sheets:

Spruce up old furniture. Because of their large size, king sheets are perfect for small reupholstering jobs, like re-covering the padded seat of four dining room chairs or an ottoman. For a contemporary look, use a flat king-sized sheet to recover an old headboard. This simple project takes only a few hours and will transform a boring wood headboard. Simply cover the pre-existing headboard with cotton batting, stapling tightly behind the headboard. Measure your sheet fabric and place over batting. Flip the headboard around and staple, pulling you go to create a taut silhouette.

Use in place of curtains. The simplest way to use extra king sheets is to turn them into curtains. One king sheet can easily make two curtain panels, saving you money and making it easy to coordinate your home decor. For lightweight window drapes, simply cut a slit on the wide hem of a sheet and slip it through a rod. This no-sew solution is great when you are short on time and sewing tools. For a classic and elegant look, use a sateen king sheet with subtle stripes. If your home is more on the eclectic side, try a patterned vintage sheet for a fun design statement. If you're partial to thicker curtains, try sewing a piece of light-blocking fabric to the back of your sheet before hanging.

Dress up your dining room. Bring your bedding into the dining room with a tablecloth created from a king sheet. For small square or rectangular tables, fold your king sheet in half and sew around all four edges. If you want to cover a larger table, simply sew backing onto your sheet and hem the two pieces together on all four sides. Solid-colored tablecloths made from sheets are a complementary backdrop for elaborate centerpieces or a nice collection of fine china.

Buy King-size Sheets
Back to Guides Directory