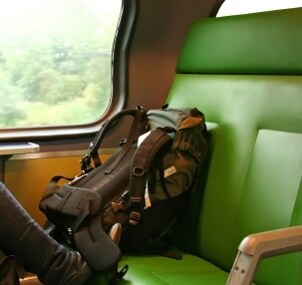 It's great to have a portable laptop or netbook computer. You can access Wi-Fi hotspots pretty much anywhere these days, so you may want to have your portable computer handy everywhere you go. If you're concerned about protecting your laptop, you may want to look into getting a computer backpack to safely stow your laptop while you're on the go. There are a lot of computer backpacks to choose from, so here are a few things to look for that will help you identify the perfect laptop backpack for you.
Buying a Computer Backpack:

A laptop pocket that fits your laptop. The basic feature of any computer backpack is the pocket or sleeve that actually holds your laptop. Most computer-backpack descriptions will list the size of laptop that will fit, usually by screen size. If your laptop screen is smaller than 15 inches, you should have no problem finding a computer backpack. If you have a 17-inch laptop, you might have to search a bit to find a computer backpack that can handle it.

Shoulder straps. When you start filling your computer backpack with everything you need, like textbooks and your computer, things can start to feel a little heavy. That's why it's important to have a computer backpack with comfortable, durable shoulder straps. Look for a laptop backpack with padded shoulder straps that you can adjust comfortably. And be sure that the fabric and stitching near the top and bottom of the shoulder straps is durable.

Weather-resistant materials. If you're planning on being outside at all, it's a good idea to have a weather-resistant computer bag to protect your laptop and books. You might consider choosing a laptop bag with a removable, water-resistant cover that you can use when it rains or snows.

Plenty of other compartments. You won't just be carrying the laptop in your computer backpack. Look for a backpack with plenty of other storage compartments that you know you'll use. If you carry a water bottle, be sure that your computer backpack includes a space for it.

Buy Laptop Backpacks
Back to Guides Directory