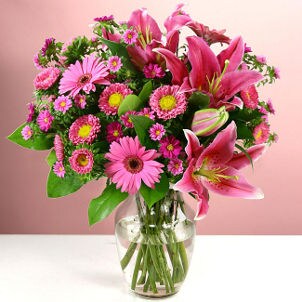 When you are looking for the perfect gift, you cannot go wrong by giving someone fresh flowers. Whether you are shopping for the person who has "everything" or simply want to brighten the day of a friend or loved one, send flowers with vivid, fragrant blossoms to show that you care. Various fresh flowers have carried significant meaning for centuries, so consider selecting a bouquet with symbolism to show your true feelings. Read on for the meanings of various flowers, especially if you are ordering flowers online.
Finding the Right Flowers:

Buy flowers symbolizing love. If you want your gift to symbolize love, you can find many different flower shops that carry romantic flowers. Red chrysanthemums stand for fidelity and love or simply mean, "I love you," as do red roses. Forget-me-nots offer the obvious meaning of hoping the recipient will remember you fondly; however, the little blue petals also hold deeper symbolism, denoting true love. Fragrant lilacs are ideal if you plan to send flowers to your childhood sweetheart, as they symbolize first love.

Look for flowers symbolizing romantic feelings. Red tulips signify your declaration of love, and a pure white carnation stands for pure, fervent love, perfect for a flower delivery on Valentine's Day. Clover flowers ask that special someone to be yours, and peach blossoms send the ultra-romantic message, "I am your captive." A flower arrangement of white roses tells your special someone that you are worthy of his or her reciprocated love. Sunflowers display adoration; blue violets symbolize faithfulness; and baby's breath represents a pure heart. Find silk flowers in a pretty flower arrangement if your loved one is allergic to fresh flowers and other plants.

Find flowers symbolizing friendship. Perhaps you are looking to send a bouquet to a new friend. Violet-blue periwinkles symbolize early friendship, and fuzzy yellow acacia flowers indicate friendship as well. If your friend is far away from you, consider gerbera daisies or zinnias when you order flowers, both fresh and silk flowers. Both of these delightful flowers denote thoughts of absent friends, no matter what color you choose. Yellow roses signify friendship and platonic love, making them a perfect flower delivery for your very best friend. Apple blossoms wish your friend hope and good fortune, while daffodils symbolize your warm regards. A showy display of azalea flowers sends your friend the message, "Take care of yourself!"

Purchase flowers symbolizing beauty or gratitude. No matter what message you want your gift of flowers to convey, you can order flowers with the perfect symbolism. Bellflowers, dark pink roses and bluebells all signify gratitude and make a lovely thank-you gift. Tell your mother, sister, girlfriend or wife how beautiful you think she is by sending a bouquet filled with calla lilies, honeysuckle, cherry blossoms, hibiscus, orchids or burgundy roses from your favorite flower shop. Send a promising entertainer a bouquet boasting trumpet flowers, as they symbolize fame. A friend celebrating the birth of a child or a wedding would appreciate birds of paradise, which are a symbol of joy.

Buy Fresh Flowers
Back to Guides Directory