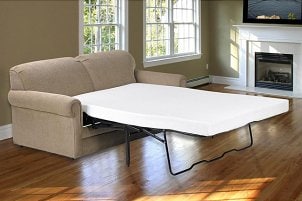 Deciding whether a sleeper sofa or a conventional sofa would be best for your room is a long-term decision. Chances are you'll own your sleeper sofa or regular sofa for several years, maybe even moving it into different homes. Both styles have certain attributes that should be considered before making a decision. Either way, if you choose a sofa to fit your style and requirements, you'll be happy to own it for years to come. Here are a few things to consider about both styles before making a choice.
Choosing a Sofa:

Room space: When converting into a bed, sleeper sofas require more room than regular sofas. Although they are just as compact as a normal sofa when folded up, make sure that you have the space for a sleeper sofa to expand. If not, a regular sofa might be the better choice. Make sure to measure both the sofa dimensions and the bed dimensions to fit in your room. If you have the space, a sleeper sofa is an excellent option.

Comfort: It is a popular misconception that sleeper sofas are uncomfortable. Most of these beliefs are built upon experiences with an old, outdated sleeper sofa. Nowadays, sleeper sofas are very comfortable as both sofas and beds. However, in order to convert into a bed, sleeper sofas often have comfortable, firm cushions. If you want large, fluffy pillow cushions, regular sofas are more likely to fit the bill. If you aren't sold on the comfort of any sofabed or regular sofa, try it first or read other customer reviews.

Adaptability: Obviously, a sleeper sofa is a very flexible piece of furniture. If you have guests, you can quickly find them a bed by pulling or laying out your sofa bed. Many modern sleeper sofas don't have removable cushions, so they can simply lean back and become a bed. If adaptability is the most important factor for your new sofa, a sofa bed is the clear choice.

Decor: When you get a new sofa, you'll want it to match the rest of your room. It won't be hard to find either a sleeper sofa or regular sofa that will match your style. However, sleeper sofas often come as stand-alone pieces or, occasionally, with an extension or ottoman. If you would like a sofa set, you might like a regular sofa. Either way, with a little looking around, you can likely find sofas of either kind that match your room and each other.

Buy Sofa Beds
Back to Guides Directory