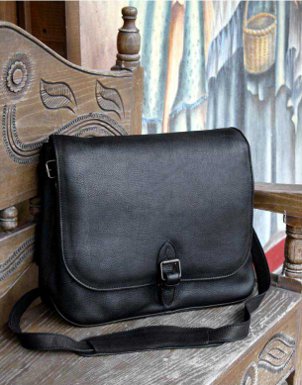 When you need to take documents or a laptop to work, leather briefcases can't be beat. They look professional and hold everything you need for a day at the office. Leather briefcases come in a variety of styles and sizes to accommodate everything from notebooks, files and pens to laptops, manuscripts and heavy documents, so choosing the right one can be tricky. Keep reading to learn about the different styles of leather briefcases and which one is right for you.
Leather Briefcase Styles:

Basic or portfolio briefcases: Basic or portfolio briefcases are the smallest and simplest briefcases you can get. Basic brown leather briefcases usually have a thin design with one outer pocket on each side and one or two interior pockets and organizers to hold notebooks, small files, business cards and pens. Small men's leather briefcases are perfect for the professional who works mostly on paper or who doesn't do much work at home. They also make great portfolios for the professional who showcases previous work to potential clients.

Laptop briefcases: If you need to take your laptop computer with you to work or to business meetings, laptop briefcases are the thing for you. Leather laptop briefcases maintain the classic look of the workplace bag while being large enough and padded enough to safely transport your laptop. Leather laptop briefcases are a must for the professional who does a lot of work on his personal laptop or who often travels for work.

Catalog cases: Catalog cases are a particular kind of leather briefcases, designed specifically to carry lots of files, notebooks and binders. These men's leather briefcases can often hold laptops, too. Black leather briefcases and catalog cases are essential for the professional who needs to carry a lot of papers to work or who manages a lot of files.

Executive briefcases: Executive briefcases often look similar to other brown leather briefcases, except for a few important distinguishing factors. Executive briefcases are constructed of the highest quality top-grain leather, have roomy compartments and organizers and often feature locks to protect your confidential documents. Italian leather briefcases are the epitome of top-level leather briefcases, and they are also some of the most expensive briefcases available. Executive briefcases are great for the senior professional or anyone who needs to carry a lot to work and look good doing it.

Rolling briefcases: Any kind of briefcase with wheels and a telescoping handle is a rolling briefcase, regardless of its size or style. Laptop briefcases are often rolling briefcases, too, which is handy if you have a lot of accompanying files or accessories to take with you. Black leather briefcases with wheels are a timeless option, as the black always looks good and won't show any wear as easily.

Women's briefcases: Not all leather briefcases have to be black and boring. Women's briefcases and leather satchels often resemble tote bags or large purses instead of austere briefcases. Many women's briefcases come in a variety of bright colors to add a feminine flair to the bag you'll use every day. Choose a women's leather satchel to add some color to your day. Show off how hard you've worked to climb the career ladder with a women's Italian leather briefcase. With the right leather briefcase, you can't go wrong.

Buy Leather Briefcases
Back to Guides Directory