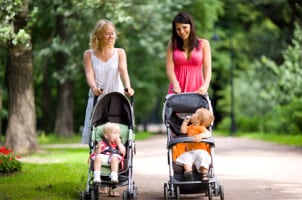 Strollers are one baby item that can be considered a necessity. Being a parent is a busy job, and there are always places to go and things to do. Without a stroller, going anywhere with your baby can be nearly impossible. Although all strollers share the same main function, there are differences you will want to consider before choosing the right baby stroller for you.
Stroller Types and Styles:

Umbrella strollers are lightweight, inexpensive and easily portable. They are often used for car-less travel as they are smaller and easier to get onto and off of busses and trains. They fold up quickly without all the bulk of a standard stroller. Umbrella strollers are an especially good option for city dwellers or those who want a streamlined option for quick trips.

Jogging strollers have large, shock-absorbing wheels. Most jogging strollers have three instead of four wheels. These types of strollers are made to assist parents who like to take their child with them on jogs or runs. The wheels and design make it easier to push and the harnesses are more supportive for the baby.

Bassinet strollers are considered lavish in style and are well known for their high-quality suspension. They often include a removable bassinet and sit on top of larger, more traditional wheels.

Standard strollers come in a wide variety of sizes and styles with a wide variety of features, such as one-handed folding systems, foot brakes and sunscreen umbrellas.

Multi-child strollers are designed to stroll more than one child at a time. They come in different configurations to suit twins, triplets or multiple-age children.

Travel systems come with an infant carrier, a car seat base and a stroller, allowing you to click the infant carrier directly out of the car seat base and onto the stroller and back again without having to unbuckle your baby from the car seat to buckle her into the stroller.
Important Stroller Features:

Safety features: Just as designs vary, so do safety features on each stroller. It is important to know the difference so that you choose a stroller that works best for you and your family. Some major differences in safety features exist in the seat belts. The standard seat belts usually found on lightweight strollers wrap around the waist and between the legs of the child. Usually, this type of seat belt is suggested for a toddler or baby that can sit up alone with no additional support. On the other hand, the safest seat belt option is a five-point harness. Five-point harnesses are made to keep your child secure during increased motion, such as jogging, running. If the child can easily get out of a three-point harness, a five-point harness is the safer option.

Brakes: The most popular type of brake is a foot brake usually located near the rear wheels of the stroller. If you are considering a jogging stroller, consider one with both a hand and foot brake. Besides the brakes, also check for other locking mechanisms, such as a fold lock that keeps the stroller folded when it's being stored.

Buy Strollers
Back to Guides Directory