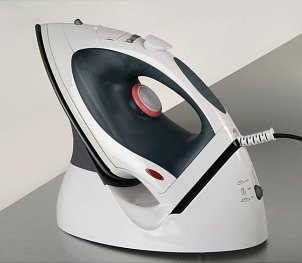 When you want to keep your clothing and linens wrinkle free, steam irons will do the job while consolidating your equipment and making the job as easy as possible. Steam irons eliminate the need to use a spray bottle while you iron and can help make it easier to avoid heater burns. Before you are able to figure out which is the best steam iron for you, it might help to understand some of the ins and outs of steam irons themselves. Whether you want a cordless iron, steam press, travel steam iron or a standard steam iron, there are a few things all the models have in common.
Steam Irons Demystified:

The concept: In the past, irons were used alongside a spray bottle. It is crucial to use water while you're ironing clothing because water loosens the fabric and prevents the iron press from burning it. Unfortunately, spray bottles still spread the moisture a bit unevenly. It is far from a perfect process. Steam irons include a water mechanism directly in the iron by releasing consistent steam -- instead of a hit-and-miss spray from a spray bottle -- that is directed evenly over the areas being ironed. This conveniently combines the function of a spray bottle more effectively with the steam iron, leaving your other hand free. The steam originates from a reservoir you fill with water inside the steam iron.

How they function: Some steam irons will automatically produce steam at a steady rate, depending on what fabric setting you are using. This type of steam press is very convenient if you don't want to fiddle with moisture at all. Other steam irons have a button near your thumb that you have to push to release steam. These are generally older models, but if you prefer to have some control, they might be the best steam iron for you.

Developments: In the past, the steam would usually be expelled from the front of the steam iron; however, most modern steam irons release steam directly from the soleplate. This spreads the moisture more evenly than on older steam irons. Plus, each individual brand of steam iron will have its own special features. Make sure to check out whatever new features each steam iron has to offer.

Buy Laundry Housewares
Back to Guides Directory