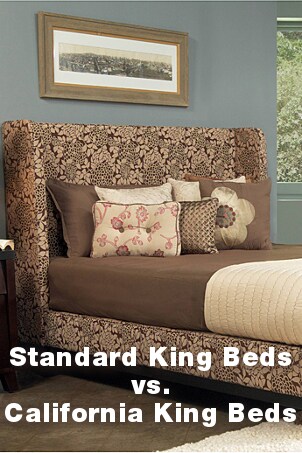 SHOP BEDS NOW >>
You know you want a bigger bed, but maybe you're not sure if a standard king bed is right for you or if a California king bed is more what you need. Once you know the facts about the similarities and differences between the two bed sizes, then it should be easy to choose the new bed that's perfect for your bedroom. Here are some comparisons that might help you make an informed choice.
Kings and California Kings:

How the sizes compare: The largest consideration before choosing a king or California king bed is their respective sizes. A standard king is 4 inches wider than a California king, but a California king is 5 inches longer than a standard king.

The Measurements:

Standard king bed: 76-inches wide by 80-inches long.

California king bed: 72-inches wide by 85-inches long.

Consider the size of your bedroom: Before you commit to any size of bed, make sure you check the dimensions of your room. If your room isn't long enough to comfortably fit a California king bed frame, you might do better with the shorter, but wider, standard king size. When you are measuring the room, make sure to consider the size of the king bed frame. If it is very ornate, it might take up a little more room other styles.

Consider your bedding: If you are replacing an existing bed that you already have bedding for, you may want to buy the same size bed again. Although king beds and California king beds are both large, the bedding for one does not fit the other. If you don't mind buying all new sheets and blankets, then this won't be an issue.

Consider your bed partner: If you aren't the only person sleeping on your bed, you might value a wider king-size bed over the longer California king. When it comes to personal space, a king-size bed might be the best bet. However, if you don't mind lying close to your partner, it might not be such a big deal which bed you choose.

Consider your height: If you are a very tall person, then you are going to want the added length of a California king bed. There is nothing worse than having your feet propped up on the footboard and your head pressed against a headboard. If you are taller than 6 feet, you may want to choose a California king.

Shop King Size Beds
Shop California King Bed
Shop All Beds
See All Guides
Read More Furniture Guides
Learn More about Bedroom Furniture
Published August 24, 2010
Updated November 21, 2014