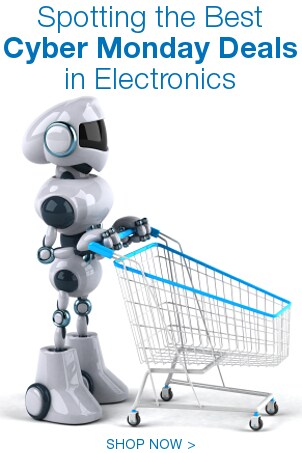 The Monday after Thanksgiving is one of the best days of the year to find online deals on electronics. While there are Cyber Monday bargains on a wide variety of holiday gifts, the sales on televisions, digital cameras, tablets, and other gadgets are often better than you'll see any other day. Here are some of the electronics discounts you're likely to run across during this year's sale.
Best Cyber Monday Deals:

Laptops: As new features are added and prices are dropped, laptops continue to be hot holiday gifts. The laptop deals you'll usually see featured will have smaller screens and less memory; they're ideal for students or as internet portals at home. Larger, high-end laptops are also sometimes featured on Cyber Monday, often packaged with additional accessories.

Cell phones and accessories: Watch for cell phones, adapters, and accessories to be bundled together with wireless carrier contracts. You may even find online deals in which the phone is free with a contract. When you find a great deal on a smartphone, you can have it delivered already activated.

TVs: Televisions often rival laptops as the most popular Cyber Monday deals. The quality keeps going up, while the prices keep going down. Most years, special models are made just for the sale; these will often have large screen sizes but may have fewer HDMI outs.

Cameras: Point-and-shoot cameras are often offered as Cyber Monday deals, and they make excellent holiday gifts. The best online deals, however, will often feature a DSLR camera. These are for serious photographers, and they usually sell for hundreds of dollars; grab them at big discounts on Cyber Monday, if you can.

MP3 players: New MP3 players come out each year, which means that retailers have a lot of older-generation MP3 players and iPods to get rid of. These are offered at steep discounts or sold with extra accessories, and they make perfect gifts for teens.

Video game consoles: Video games are frequently featured as online deals during Cyber Monday sales. Look for consoles bundled with extra controllers, cables, and free games. Also, look for larger hard drives, remote controls, and other accessories as add-ons.

Video players: Many online deals will pair a discount DVD player or Blu-ray player with a TV or home theater system. Video players and recorders are nearly as important as your TV for video quality. Watch for discounts on home theaters with built-in Blu-ray or DVD players.

Shop Electronics
Shop Cyber Monday Deals
See All Current Sales
See All Guides
Read More Online Shopping Guides
Learn More about Holiday Shopping
Published November 15, 2010
Updated December 1, 2014