Specialty Kitchen Appliances Buying Guide
by Staff Writer
Specialty kitchen appliances are those appliances that are specific to one certain task. Pasta machines, ice cream makers, and bread machines are just a few examples. This buying guide can help you determine which ones will speak to your taste buds louder than others, so you can get the right specialty appliances for your kitchen.
Specialty Appliances: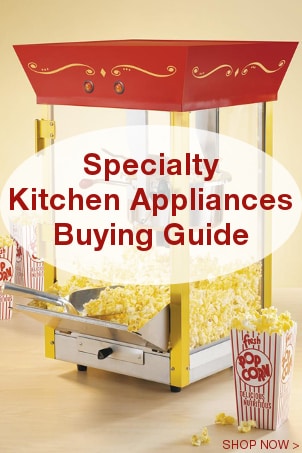 Shop Popcorn Poppers ▸
Juicers:

Juicers are a fantastic way to make healthy drinks every day. Instead of drinking store-bought, prepackaged juice (which becomes expensive if you want pure fruit juices without added sugars), you can make your own and know exactly what goes into them.

Rice cookers:

Rice cookers are useful and surprisingly versatile specialty appliances. You can cook rice to perfection, steam vegetables, and even make soups, stews, hot cereals, and desserts. Each rice cooker offers different features, so be sure to check for the ones you need. Look for the right capacity, automatic shut-off, a "keep warm" feature, and steaming trays to cover the basics.

Slow cookers:

For low-prep meals, slow cookers are the best. These specialty appliances can make all-in-one meals, and all you have to do is add the ingredients. Slow cookers retain the flavor of your foods as well as cook up meats that fall off the bone, and the food is ready when you come home from work. Before you buy just any slow cooker, consider a few things. First, consider the slow cooker's capacity; four quarts is family size, but slow cookers come in much larger sizes if you cook for a crowd. Most slow cookers have only off, low, and high settings, but some have keep-warm features. Also, look for transparent lids, stay-cool handles, and removable dishwasher-safe pots for easy cooking and cleaning.

Bread machines:

Bread machines take the guesswork out of baking breads. They come in two sizes: single loaf and double loaf. All you need to do is add the ingredients in the right order and turn on the machine. Your bread maker will knead the dough, allow it to rise, and then bake it; you'll have perfectly done loaves of bread each time. You can also set the bread maker on the dough setting and make pizza dough and dough for other bread products not in loaf form, like bagels and bread rolls.

Deep fryers:

Deep fryers are machines that replace the old frying method of heating large pots of oil over the stove. These machines have made the whole frying process more accessible. Deep fryers often come with features such as timers with audible alarms, automatic devices to raise and lower the basket into the oil, measures to prevent food crumbs from burning, ventilation systems to reduce frying odors, oil filters to extend the usable life of the oil, and mechanical or electronic temperature controls. Make french fries, onion rings, and fried chicken, and even deep-fry a turkey for Thanksgiving.

Pasta makers:

There is nothing quite like fresh homemade pasta. It used to be a long process: mixing pasta dough, rolling out flat sheets as thin as possible, and cutting the pasta in strips or shaping it into the desired pasta shape. Manual pasta machines make rolling and cutting much easier. They can either be hand-cranked or electric.

Waffle makers:

With a waffle maker, all you need is batter and some creativity to make a mouth-watering breakfast. The most common waffle maker cooks four 4-inch square waffles. Belgian waffle makers make larger, thicker waffles. You can also find other shapes of waffle makers, as well as double-sided waffle makers, which make two waffles at a time. There are also waffle makers that require you to turn the machine over. Your waffle maker should have a nonstick surface and be easy to clean. Helpful features include on and ready lights and temperature controls.

Popcorn makers:

These extremely popular appliances are great fun, and popcorn poppers are a fantastic addition to a movie buff's kitchen. Sure, microwaves can cook popcorn; however, if popcorn is a favorite food item at your house, a popcorn maker gives you the authentic movie-going experience. And air-popped popcorn is a healthier alternative to the kind you heat up in a bag.

Ice cream makers:

Ice cream makers are very popular for several reasons. They allow you to know exactly what is going into the ice cream, and no other machine creates such lasting memories. Ice cream makers can even make soft-serve. There are four main kinds of ice cream machines to choose from.
Types of Ice Cream Makers:
and-cranked ice cream makers are updated versions of the ones your grandparents may have used. Hand-cranked ice cream makers are made from the traditional barrel construction, but the cranks are updated to make hand-cranking easier.
Electric ice cream makers are the same as the hand-cranked, except the machine does all of the work.
Refreezing-bowl ice cream makers are the easiest ice cream makers to use. You freeze a bowl over night, stick it on the machine, add ingredients, and then relax for 20 minutes. These machines also make great sorbets and Italian ices.
Self-containing ice cream makers come with their own freezing unit. All you have to do is add the ice cream ingredients and let them do their thing. These can be more expensive than others.
Fondue pots:

Fondue can be chocolate, cheese, or broth for meat. When deciding on a fondue pot, you want to shop based on which type you'll make most often. Chocolate fondue is usually made in a small pot. Both cheese and chocolate fondues are best in a thicker pot that will retain heat without scorching the chocolate or cheese. Meat fondues that are cooked in hot oil or broth need a fondue pot that has a high heat-resistance. Be sure to get enough dipping forks for your all your guests and dipping saucers for meat fondue.