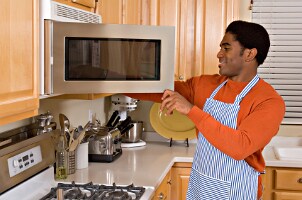 When you think of appliances that feature unique style and a reputation for quality, LG appliances are probably not far from your mind. LG home appliances always seem to blend great features with a sleek and modern look. With any appliances for your home, however, you're probably looking for performance as well as style. To help you in your search for quality machines for your home, here are some of the highlighted features that LG appliances have to offer.
LG Appliance Features:

Refrigerators: Four doors are better. The four-door LG refrigerator models allow you to more precisely manage the temperature of food in each compartment. The double-freezer drawers on these LG appliances give you separate drawers for regular and deeply frozen foods.

Get water and ice easily. Plenty of refrigerators offer filtered water and ice dispensed through one of the doors. But several LG appliances offer the tallest dispensers available on the market, allowing you to rest an entire pitcher in the dispenser alcove with a pull out shelf.

LED lighting keeps the lights on. The days of burnt-out bulbs may be over if you choose an LG appliance with LED lighting rather than incandescent bulbs.

Washers and dryers: You know you have a great washer and dryer when you have a hard time telling whether they're on or not. LG appliances feature just that kind of whisper-quiet engineering that minimizes vibration and operates quietly.

Monitor your LG appliances with LCD displays. Detailed displays ensure that your LG appliances give you specific information on the status of your laundry cycle, options and the time.

De-wrinkle clothes by steaming. You can steam those wrinkles into submission in as little as 20 minutes with the steam technology available on some LG appliances.

Dishwashers: LG washers feature a high-capacity design. Some LG dishwashers can fit up to 16 place settings at once, giving you more water-efficient washing per dish.

Be kind to your dishes. You don't have to be afraid of washing your fine china and other delicate dishes in LG appliances with multiple wash cycles. You can also adjust the water usage, temperature and even add steam.

Buy LG Large Appliances
Back to Guides Directory