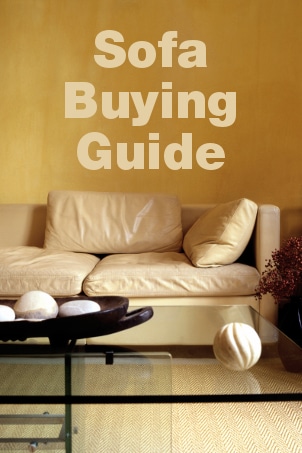 SHOP SOFAS &amp LOVESEATS NOW >>
As the largest pieces of living room furniture, your sofa and loveseat will influence the the decor of an entire room. However, with all of the types of sofas available, basing your choice solely on looks will only get you so far. Here's what to look for when you are sofa shopping, so you can choose one that is beautiful and functional.
Choose a Type of Sofa:

Sofas: Regular sofas range anywhere from 6 to 8 feet long and can fit two to three people comfortably. This type of sofa will fit comfortably in most living rooms. Make sure you leave enough room to walk around your living room furniture.

Loveseats: Loveseats range from 5 to 6 feet in length and can fit two people comfortably. Loveseats are perfect for small spaces, like apartments, dens, and even bedrooms.

Sectional sofas: Sectional sofas range in length anywhere from 9 to 14 feet and can fit a four, five, and sometimes six people comfortably. For large living rooms and family rooms sectional sofas are perfect. Some sectionals can separate, allowing you to use the pieces in smaller spaces.

Sofa beds: Sofa beds can transition any room from a living room to a guest room. Sofa beds, or sleeper sofas, open up to reveal a pull-out bed that fits two adults.

Futons: Futons are as versatile as sofa beds but not as complicated. Simply unfold the futon and it becomes a bed that transitions back to a sofa very quickly. Some futons have settings for reclining, and most futons have a full-size mattress.

Sofa sets: You can purchase your sofa by itself or in a sofa set. Sofa sets usually come with a sofa and loveseat, and sometimes a matching chair.
Consider the Materials:

Sofa and futon frames: The frame of the sofa you select should be able to support and withstand quite a bit of weight and use. Frames are usually made of kiln-dried hardwood or metal. Oak and maple frames offer durable stability. Pine and spruce are softer woods and are sometimes used to lower the price.

Sofa springs: The sofa you select should be comfortable, and the construction element with the most influence on that comfort is the springs. The deck of the sofa houses the springs on which the cushions sit. Well-made sofas usually include eight-way, hand-tied coils. Other sofas may use assembled coil units or sinuous wire that is stapled or nailed to the sofa's frame. Hand-tied coils will last longer and keep your sofa comfortable longer.

Sofa upholstery fabrics: Pay careful attention to the sofa fabric, especially if you have kids and pets. Tightly woven fabrics tend to last longer than other fabrics, like velvet, which is luxurious but can wear out over time. If you have a busy household, choose a durable, easy-to-clean material, like microfiber or leather.
Think about Design Features:

Sofa backs: The sofa back is the part of the couch where you rest your back. Tight-back sofas can have a formal or contemporary look. Formal sofa looks would include buttons, to keep the foam from shifting, while a sleek, smooth one-piece back has a contemporary look. Loose-back sofas are comfortable and casual; the sofa back cushions are not attached directly to the frame and can be removed. Some cushions are attached at the top and left unattached on the bottom.

Sofa feet: Traditional sofa feet are ornate and carved out of wood. More modern sofa feet are sleek and straight, made from wood or metal. There are many sofa designs that have hidden feet as well, letting the sofa sit closer to the floor.

Sofa skirt: Skirts run along the bottom of some couches to hide the feet. Skirts with stiffer pleats look very formal, and loose, gathered skirts are more casual.

Sofa arms: Sofa arms can be high, low, square, curved, upholstered, or bare wood. Think about whether or not you like to lean on the arms; you'll want them to be upholstered if you do. Lower arms can help make a room seem airier, making them a good choice when the space is small or when you don't want to block views.

Sofa cushions: The number of cushions usually dictates how many adult people can sit on a sofa. Sofa cushions can be loose or strapped in place. Loose cushions can be flipped over to hide stains or to refresh loft; sofas with attached cushions will have a tighter look and feel.

Shop Sofas & Loveseats
Shop Sectional Sofas
Shop All Living Room Furniture
See All Guides
Read More Furniture Guides
Learn More about Living Room Furniture