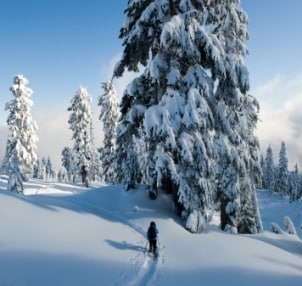 When you get the itch to go for a mountain stroll, snowshoes allow you to traverse beautiful terrain otherwise inaccessible. Snowshoes spread your weight evenly across a large, flat surface area, which helps keep you "above" the snow. They won't make you float magically above the snow, but they will help out in deep powder. When you are ready to strap on a pair, use this buying guide to help figure out what would work best for you.
Buying Snowshoes:

Types of snowshoes: First things first, you'll find snowshoes for sale in many different varieties. Before you choose a pair, get familiar with your options.

Snowshoes:

Recreational snowshoes are perfect for walking or hiking on terrain that isn't very steep or rugged. Recreational snowshoes have moderate traction, usually at the forefoot.

Mountaineering snowshoes have a more technical design and feature more aggressive traction, which aids in navigating steeper, icier conditions that are frequently seen while mountaineering or on longer hikes. Mountaineering snowshoes have aggressive traction at both forefoot and heel.

Aerobic or running snowshoes are made for cross-training and competitive snowshoeing on hard-packed trails. Running snowshoes are light, durable and maneuverable. Aerobic snowshoes have extra cleats at the toes for traction when pushing off the snow.

Youth snowshoes are basically smaller recreational snowshoes. They are best for wearers who are no more than 125 pounds, good for smaller adults, and can easily be used as women's snowshoes if you have a smaller women's shoe size.

Traction: A traction device or crampon is another feature of good snowshoe bindings. A crampon is a spiked iron plate worn on snowshoes for gripping into ice and snow and to aid in climbing. Traditional wooden snowshoes had rawhide lacing that provided some traction, but newer, modern snowshoes use a metal claw (with smooth decking) attached to the binding. These are usually found under the heel and are used to bite or grip into hard snow and ice. You'll notice as soon as you move away from the flats just how important traction is.

Size: Snowshoe sizes are stated as width by length in inches, like 8 x 25. There are no tried and true formulas to determining which size of snowshoe would be best, but here are some things to consider:

Snowshoe Considerations:

Your weight.

Your weight plus pack weight.

Type of snow found where you hike, including deep powder, firm springtime snow or packed trails.

Terrain, including gentle, steep, open or heavily wooded.

Maneuverability (smaller snow shoes are more maneuverable).

Bindings: Bindings are just as important as size when selecting the right snowshoes. The binding does more than just hold your foot on the snowshoe; it has a big effect on how the snowshoe performs. Good bindings should be easily secured in the snow, even while you're wearing gloves. Snowshoe bindings should have a secure point of attachment and keep the foot from sliding forward while also controlling the side-to-side motions and providing enough traction without stretching.

Frames: Most modern snowshoes have aluminum frames. Frames can also be made of wood or high-tech fibers such as carbon fiber. Wooden snowshoes perform well but are subject to breakage and require a lot of maintenance.

Decking: The decking is attached to the frame of the snowshoe. This is the flat surface that allows you to walk on the snow without sinking. The decking used to be made from rawhide, but now decking is made from synthetic materials, like Hypalon, Quadex, polypropylene or plastic. These materials are strong, lightweight and require little maintenance. They are also adept at shedding snow.
Tip from Overstock.com:

Branch out: With a pair of snowshoes, you won't find yourself confined to your home during the winter months. Don't give up your outdoor exercise routine because of the weather. Enjoy brisk walks, hikes and fun with snowshoes. Bring along a camera and capture the beauty of the pure snow-covered trails and scenery you'll find while using your new pair of quality discount snowshoes. If snowshoes are a little too tame, there are plenty of winter sports to choose from. Try cross-country skiing or snowboarding. Cross-country skiing is one of the best exercises you can do to burn calories and lose weight. Sleds are also an option to consider.

Buy Snowshoes
Back to Guides Directory