Snowboarding Buying Guide
by Staff Writer
Since it began in the 1970s, snowboarding has grown to become one of the most popular winter sports, even matching skiing in popularity. One of the appeals of snowboarding is that, for some people, it's easier to become proficient at than skiing. Nevertheless, snowboarding involves much more than just strapping a snowboard to your feet, and snowboard equipment can be confusing for beginners. This snowboarding buying guide is designed to help you decide what you need before you head to the slopes.
Snowboards: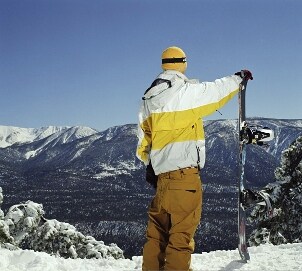 Shop Snowboarding Gear ▸
The first thing you'll need is a snowboard that suits your level of experience and the terrain on which you'll be riding. Snowboards have a number of different variables, like flex, length, and sidecut, and the right snowboard will be different if you're learning how to snowboard than it will be if you're experienced. If you're new to snowboarding, packages that come with boots and bindings can save you money. Make sure that they're made by a good brand, though; now and again you come across cheap boards that won't last a long time.

Freestyle boards:

Freestyle snowboards are designed for doing tricks, like rails and jumps. They are fairly short and have a lot of flex, which also makes them good beginner snowboards, since they turn well at low speeds.

Freeride boards:

Freeride snowboards are all-around boards, with medium flex and medium length. If you know how to snowboard and you prefer to spend your time carving turns at the ski resort, a freeride board is probably a good choice.

Backcountry boards:

Backcountry snowboards are designed to float on powder and withstand the rigors of backcountry snowboarding.
Snowboard Boots
In some ways, snowboard boots are almost as important as your snowboard. Snowboard boots keep your warm, allow you to connect securely to your board, and help you control your snowboard. If you wear the wrong boots for snowboarding, you could spend a day with cold, miserable feet and diminished control, no matter how nice your snowboard is. Whichever snowboarding boots you choose, be sure they're comfortable and hold your foot snugly without cramping it.
No substitutions:
Snowboarding boots look similar to regular snow boots, but they have features that are designed to maximize your control and comfort while you're snowboarding, like internal supports that wrap up behind the boot, which give you extra control while you're riding.
Hard and soft:
You can find soft boots and hard boots on the market, but unless you're doing extra-fast downhill skiing, you'll probably want soft snowboarding boots. That said, soft snowboarding boots vary in the amount of flex they have. If you're shopping for boots for snowboarding for the first time, look for a soft boot that is stiff.
Snowboard Bindings
You have your snowboard and your snowboarding boots; now you need a way to secure your boots to your snowboard, and that's where your snowboard bindings come in. Snowboard bindings come in different styles, but they're all designed to do one thing: bind your feet tightly to your snowboard. All of these bindings are designed to work with soft boots, and they're all very comfortable if you choose the right boots.
Strap bindings:

Strap bindings have straps that ratchet over the front of your foot, and each binding has a highback -- a plate that comes up behind your ankle -- that secures the back of your foot. Strap bindings are the oldest style of binding and still the most popular, since they're comfortable and secure your snowboard boots well; however, some beginners don't like strap bindings because they can take a little while to secure.

Step-in bindings:

Step-in bindings are common on beginner and rental boards. These have highbacks but no straps; you simply step into the binding, and the base-plate of the binding locks into a mechanism on the bottom of your snowboard boot. If you want to use step-in bindings, make sure that you buy step-in boots. Some people do not like step-in boots, though, because they offer less control since only the sole of your foot is secured to your board.

Flow bindings:

These combine the best of strap bindings and step-in bindings. With flow bindings, the highback flips down, so you can slide your foot into the bind and then simply snap the highback into place. Flow bindings are relatively new and are becoming more popular.
Other Important Gear
Snowboarding pants:

These are usually made with a durable and waterproof or water-resistant shell and a layer of insulation on the inside. Expect your snowboard pants to feel a little loose; they're designed to keep you warm but also give you a lot of freedom of movement.

Snowboarding jackets:

These will have a durable outer layer like pants, but they may or may not have an insulating layer. If you choose a snowboard jacket that doesn't have insulation, make sure you wear a separate insulating layer with it.

A snowboard helmet:

If you plan on attempting jumps and tricks or if you're just beginning and you want to be safe, a snowboard helmet is a good investment.

Snowboard goggles:

It's important to protect your eyes and shield them from the sun. Some snowboard goggles can also improve visibility in snowy or cloudy conditions.

Snowboarding gloves:

If you're a beginner, you'll use your hands a lot when you snowboard. Keep them warm and dry with a pair of snowboarding gloves that extend past your wrists to about the middle of your forearm.