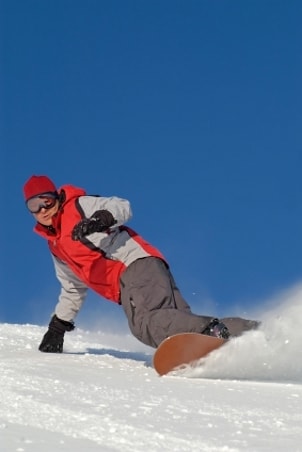 Whether your terrain of choice is park or powder, there is almost nothing that compares to snowboarding on good snow. And good snowboarding gear is essential for your best performance. You might have some new snowboarding boots with the boa lacing system and a new snowboard with reverse camber, but if you don't have good snowboard bindings, your board and boots can't communicate to carve the way they should. Spend a little time getting more familiar snowboard bindings, so you can buy a set to take your riding to the next level.
Buying Snowboard Bindings:

Types of snowboard bindings: There are three types of snowboard bindings: strap-on bindings, step-in bindings and lever bindings.

Binding Types:

Strap-on bindings: Strap-on bindings usually use two plastic straps that are ratcheted down to hold your boot firmly to the snowboard. These snowboarding bindings are very popular because they offer flexibility and comfort with soft snowboarding boots, but they still provide good edge control.

Step-in bindings: Step-in snowboard bindings allow for a quick and easy step-in. But because the step-in mechanism attaches the snowboard and boot at the middle of the foot, these snowboarding bindings don't give as much edge control as other snowboard bindings.

Lever bindings: Plate bindings use steel bails to hold the toes and heels of hard snowboarding boots firmly to the snowboard for excellent edge control. Despite the control these snowboarding bindings offer, they are not very popular outside of racing because they require harder, less comfortable snowboard boots.

Snowboard binding sizes: Snowboarding binding sizes are simply small, medium and large. The binding size you get should be based on the size of your snowboarding boots, but there is no hard line of when to switch from a medium to a large. You just need to be able to latch your bindings and get them snug.

Adjusting your snowboard bindings: At some point, you will probably want or need to adjust your snowboard bindings. They may have just come loose, or you may want to adjust your stance, but either way, you'll need some simple tools and a little know how. Many ski resorts have an area with some tools you can use, but if you're halfway down a run, some tools at the bottom aren't going to help you. If you have tools, you can make the adjustment yourself, wherever you are.

Making adjustments to your snowboard bindings is easy. Just loosen the screws on the base plate of the binding enough that you can move the binding. Position your snowboard bindings how you want them and tighten the screws. The straps can usually be adjusted, too, in the same way.

Matching your boots and bindings: It is very important that you have snowboard boots and bindings that work together. Step-in bindings require step-in snowboard boots for the latching mechanism to work. Using step-in bindings usually requires stiffer boots to help gain edge control that is lost from the mid-foot attachment point.

Strap-on bindings work best with soft snowboarding boots that can be flexible or stiff. Strap-on snowboard bindings have enough contact with your boots that soft boots can be used without a loss of control.
Use this code for an unordered list. Additional text will go here. Repeat the code between the list item tags as needed for your article.
Ideas from Overstock.com:

Many snowboarders ignore their bindings, but your snowboard's bindings are where your energy gets transferred to your board. Upgrading your bindings is a good way to get performance gains that you might be missing out on.

Buying a gift for a snowboarder? Snowboards and snowboarding boots require a lot of input from the user. Snowboard bindings make a good gift because the sizing is easier to fit to someone.

Buy Snowboard Bindings
Back to Guides Directory