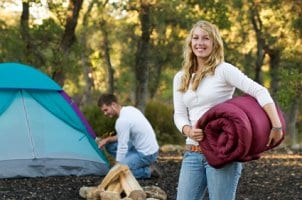 A good sleeping bag can make all the difference when you're sleeping outdoors. Sleeping bags keep you warm at night and protect you from the elements, whether you're camping with or without a tent. You'll want to treat your sleeping bag as well as it does you. Proper sleeping bag care will help your sleeping bags perform well and last longer. Here are some general care tips to prolong the life of your sleeping bags.
Caring for Sleeping Bags:

Storage: Avoid storing your sleeping bag rolled or stuffed tightly in a compression sack. You don't want your sleeping bag to lose its loft. Store your bag rolled up loosely in a breathable sack made of canvas. Take your bag out every three to six months and fluff it up to help maintain its loft. After each camping or hiking trip, allow your sleeping bag to air out. Hang it up outside on a nice sunny day. Air out your sleeping bags before you store them and never pack a wet sleeping bag for storage. If you choose to fluff your sleeping bag in a dryer, do not use heat.

Washing: Washing your bag after each camping trip isn't necessary, unless you've just finished a month-long backcountry trip. You may also want to wash your sleeping bag at the end of the season before putting it in storage. Follow the care instructions on the sleeping bag for washing. Synthetic materials and down sleeping bags require different washing methods. Use a large washing machine and avoid machines with front agitators. Do not dry clean your sleeping bag. Dry cleaning solution is a petroleum-based solvent, which will coat insulation and prevent re-lofting.

Preparation: Before you leave for a camping or backpacking trip, make sure you prepare for any situation you may encounter. Use a waterproofed compression sack when hiking or going into the backcountry. The bag will stay dry, even if you do not. Having a dry bag (and a fire) will be very beneficial if the weather turns cold suddenly. You should also bring a sewing kit and duct tape. You can stitch up a tear in your sleeping bag or use duct tape to patch a tear or seal a broken zipper. Bring a sleeping bag pad and tent or tarp to protect your sleeping bag and camping gear from dirt and mud.

Hardware: Treat your sleeping bag zippers and hardware with care. If you have a sleeping bag with zippers that meet in the middle, using one to go all around will wear the one zipper down and increase the chances of it jamming or jumping off track. Try to balance the work load of each zipper. In a mummy sleeping bag, make sure your drawstring doesn't get twisted or knotted.

Buy Sleeping Bags
Back to Guides Directory