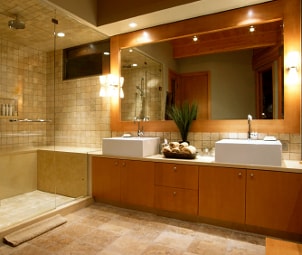 The sinks in your home see a lot of use. And over the years, they need to be replaced. When you start shopping for sinks, you may run across plumbing terms and sink-related words that aren't familiar. This glossary will help you with the common words you may run into while shopping for sinks for your kitchen or bath.
Sink Terminology:

Lavatory: This is the proper term for a bathroom sink. It comes from the Latin word "lavare," which means "to wash."

Pedestal: A pedestal sink is just that: a sink that rests on a pedestal. Pedestal sinks don't have a vanity or cabinet, so they tend to fit well in small bathrooms that need more open space.

Vessel: Vessel sinks are usually raised above the countertop, mimicking old-fashioned wash basins and vessels. Vessel sinks are primarily used in the bathroom.

Hand of the sink: This term refers to which side the drainer is on. This is important to know when selecting high-quality kitchen sinks as they tend to be manufactured in left-hand or right-hand form.

Cut-out size: This is the size of the aperture, cut out of the countertop, which contains the sink. The cut-out size determines the type of sinks that can be used without expanding the hole. This is measured by the total length of your sink (minus 20 mm) and the total depth of your sink (minus 20 mm).

Width of sink: This measurement refers to the maximum overall size of the sink from left to right.

Depth of sink: This measurement refers to the maximum overall size of the sink from front to back.

1 taphole (1 TH): A one-taphole sink is designed to take a single stem faucet or monobloc mixer-type tap. A tap of any description may be used providing it is monobloc.

2 taphole (2 TH): A two-taphole sink is designed to take individual pillar faucets, deck mixers or two-hole bridge sink mixers.

1 TH reversible: A reversible sink has precut tapholes at both the front and back, making it easy to switch from the left hand to the right hand. The hole that isn't used is usually filled with either a pop-up waste or matching stopper.

Waste kit (waste kit/overflow): This is commonly confused with the plumbing kit but refers to the perforated outlet in the bottom of the sink which is filled by a rubber stopper or basket strainer. Sometimes, the overflow is built into the side of the bowl.

Plumbing kit: The plumbing-kit pipes connect to the waste drain and may or may not include a P-trap or S-bend.

Monobloc sink mixer: This is a one-stem faucet that controls hot and cold water flow without knobs that are separate from the faucet stem.

Buy Sinks
Back to Guides Directory