Shower Curtain Buying Guide
by Staff Writer
Published April 28, 2010 | Updated June 29, 2015
Not only can shower curtains maintain your privacy and keep your bathroom floor dry, but they can also improve the overall look of your bathroom. This buying guide will help you choose the best shower curtain for your bath.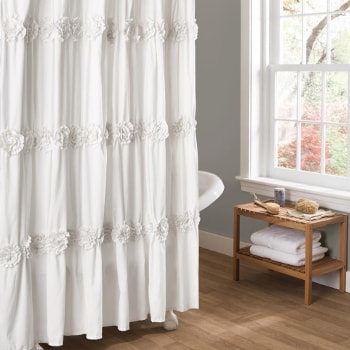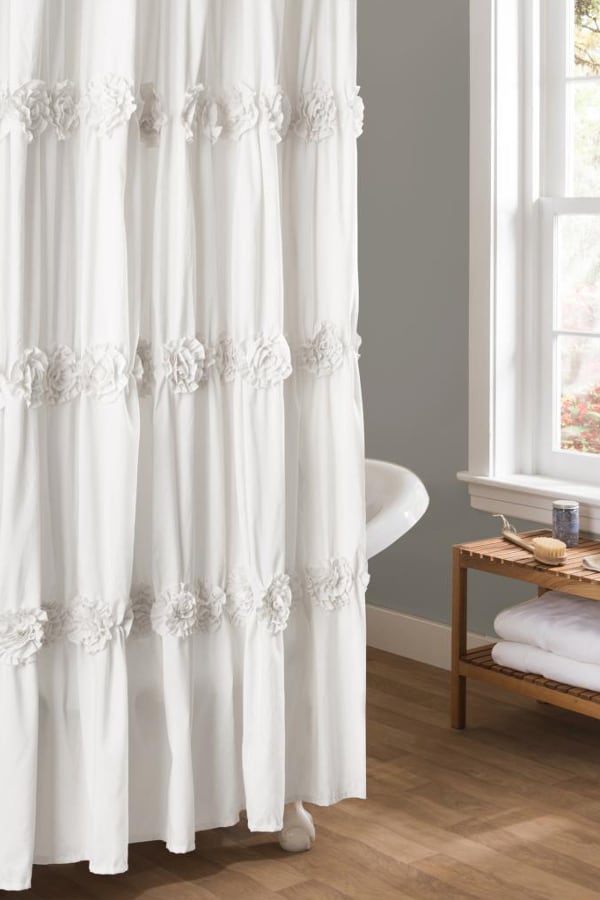 Shop Shower Curtains ▸
Shower Curtain Materials:
Synthetic Shower Curtains

The large majority of shower curtains sold are created using synthetic materials, such as vinyl, nylon, and polyester. Shower curtains produced from man-made materials are often the most affordable. These shower curtains are also extremely low maintenance, as they repel water, which helps them avoid stinky mildew. They're manufactured in many colors and designs, meaning you can find something perfect for a bathroom on a budget.

Cotton and Linen Shower Curtains

These fabric shower curtains add a designer touch to a bathroom. Because cotton and linen absorb water instead of repelling it, they might stay wet enough to become incubators for odor-causing mold and bacteria. Because of this, you'll want to also buy a shower curtain liner. Liners can help you avoid fungi and stains, but plan to wash this type of shower curtain frequently.

Shower Curtain Rods:

Shower Curtain Rod Shapes

The shape of your shower curtain rod will ultimately depend on what sort of shower and space you are dealing with. Make sure to take measurements before purchasing a rod.

Which Curtain Rod Is Right for You?

Straight: Straight shower curtain rods are the most popular. This shape will fit a wide array of showers. You just need to have two walls to mount this rod between. Most straight rods are mounted with tension, so you won't even need tools to put them up.

Curved: Curved shower curtain rods are another popular style. These will match a variety of built-in tub and shower combinations and offer a spacious feeling in the shower. LIke straight rods, you'll just need two walls to mount this rod between, but mounting may require drilling holes in the walls.

L-shaped: L-shaped shower curtain rods are essential for showers not entirely surrounded by walls. Ceiling supports are recommended for this type of rod.

Circular and oval: For free-standing bath-and-shower hybrids, such as classic claw-foot tubs, you'll want to purchase a circular or oval shower rod. This sort of shower curtain rod requires ceiling support.

Shower Curtain Rod Materials

The majority of shower curtain rods are produced using sturdy enough metals to hold up your shower curtains and whatever bath towels you choose to throw over them. As long as your shower curtain rods are secured tightly, the only thing you'll need to worry about is their aesthetic value. For example, a chrome shower curtain rod will bring contemporary style to your bath, while a bronze rod will provide a classic, timeless touch.

Shower Curtain Rings:

Metal Rings

While you can still find plastic curtain rings out there, metal hooks have become the new standard. They are durable and beautiful, and they're more affordable than ever.

Roller Hooks

These metal curtain rings feature small ball bearings that help the shower curtain glide easily over the rod. It's a popular option that has modern appeal.

Resin Hooks

For a decorative accent, look for resin shower curtain hooks. These feature colorful designs and patterns that look like fashion earrings, perfect for enhancing a decorative theme in your bathroom.